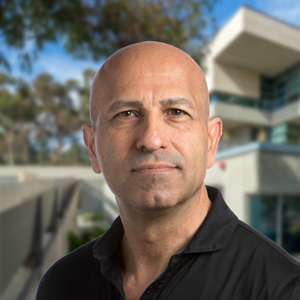 M.Reza Ghadiri, PhD
Email
---
Scripps Research Joint Appointments
---
Research Focus
Organic, Bioorganic, and Materials Chemistry

Our group is involved in a multidisciplinary research effort that uses disciplines ranging from synthetic organic and inorganic chemistry to materials science and recombinant DNA technology to develop novel methods for the rational design and construction of functional biomaterial-based structures. Our goal is to provide novel applications in the field of molecular and system engineering as well as advance our fundamental understanding of living chemical processes. Currently, research projects in our laboratory deal with various aspects of peptide and protein architecture and folding, design of synthetic receptors and enzymes, fabrication of novel biosensor arrays, self-replicating molecular systems, and self-organized nonlinear autocatalytic chemical networks and ecosystems. selected references
---
Education
Ph.D. (Chemistry), University of Wisconsin-Madison, 1987
B.A. (Chemistry), University of Wisconsin–Milwaukee, 1982
---
Professional Experience
1987-1989 Postdoctoral Fellow, The Rockefeller University
---
Awards & Professional Activities
Searle Scholars Award 1991-1994 Arnold & Mable Beckman Young Investigator Award 1991-1993 Alfred P. Sloan Research Fellow 1993-1995 Eli Lilly Grantee 1994-1995 American Chemical Society Award in Pure Chemistry 1995 Arthur C. Cope Scholar Award, American Chemical Society 1999 Feynman Prize in Nanotechnology 1998 Visiting Professor, University of Santiago de Compostela, Santiago, Spain 2001 Merck-Frosst Lecturer, University of Victoria, British Columbia 2001 Belleau Lecturer, McGill University, Montreal, Quebec 2001.
---
Selected References
Lin, V. S.-Y.; Motesharei, K.; Dancil, K.; Sailor, M, J.; Ghadiri, M. R. "A Porous Silicon-Based Optical Interferometric Biosensor, " Science 278: 840-843, 1997.
Severin, K.; Lee, D. H.; Kennan, A. J.; Ghadiri, M. R. "A Synthetic Peptide Ligase," Nature 389: 706-709, 1997.
Lee, D. H.; Severin, K.; Yokobayashi, Y.; Ghadiri, M. R. "Emergence of Symbiosis in Peptide Self-Replication Through a Hypercyclic Network," Nature 390: 591, 1997.
Severin, K.; Lee, D. H.; Martinez, J. A.; Vieth, M.; Ghadiri, M. R. "Dynamic Error-Correction in Autocatalytic Peptide Networks," Angew. Chem. Int. Ed. 37: 126-128, 1998.
---
Links
New Study by Scientists at TSRI Suggests an Answer for One of the Oldest Questions in Biology
Three TSRI Faculty Members Elected to AAAS