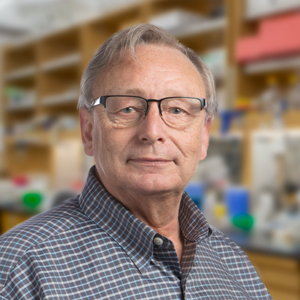 Edward Roberts, PhD
Email
---
Scripps Research Joint Appointments
---
Education
Ph.D. (Organic Chemistry), Newcastle University, 1982
B.Sc. (Hons) Bachelor of Science (Biochemistry), University of Sussex, 1979
---
Professional Experience
2015-2017 Professor, Chemistry, Scripps Research
2003-2004 Senior Vice President and Chief Scientific Officer, Kemia
1999-2002 Senior Vice President and Head of Discovery Chemistry, F. Hoffmann-La Roche Ltd.
1994-1999 Director, Research and Development, AstraZeneca
1986-1993 Neuroscience Research Centre at Addenbrookes Hospital, Parke-Davis
1983-1985 Assistant Professor, University of Wales, Cardiff
---
Selected References
Guerrero, M., Urbano, M., Kim, E. K., Gamo, A. M., Riley, S., Abgaryan, L., Leaf, N., Van Orden, L. J., Brown, S. J., Xie, J. Y., Porreca, F., Cameron, M. D., et al. Design and synthesis of a novel and selective kappa opioid receptor (KOR) antagonist (BTRX-335140). (2019). Journal of Medicinal Chemistry, 62(4), 1761-1780. PMCID: PMC6395531.
Xie, J. Y., De Felice, M., Kopruszinski, C. M., Eyde, N., LaVigne, J., Remeniuk, B., Hernandez, P., Yue, X., Goshima, N., Ossipov, M., King, T., Streicher, J. M., et al. Kappa opioid receptor antagonists: A possible new class of therapeutics for migraine prevention. (2017). Cephalalgia, 37(8), 780-794.
Harris, R. A., Bajo, M., Bell, R. L., Blednov, Y. A., Varodayan, F. P., Truitt, J. M., de Guglielmo, G., Lasek, A. W., Logrip, M. L. & Vendruscolo, L. F. Genetic and Pharmacologic Manipulation of TLR4 Has Minimal Impact on Ethanol Consumption in Rodents. (2017). Journal of Neuroscience, 37(5), 1139-1155. PMCID: PMC5296793.
Burkert, K., Zellmann, T., Meier, R., Kaiser, A., Stichel, J., Meiler, J., Mittapalli, G. K., Roberts, E. & Beck-Sickinger, A. G. A deep hydrophobic binding cavity is the main interaction for different Y2R antagonists. (2017). ChemMedChem, 12(1), 75-85.
Scott, F. L., Clemons, B., Brooks, J., Brahmachary, E., Powell, R., Dedman, H., Desale, H. G., Timony, G. A., Martinborough, E., Rosen, H., Roberts, E., Boehm, M. F., et al. Ozanimod (RPC1063) is a potent sphingosine-1-phosphate receptor-1 (S1P(1)) and receptor-5 (S1P(5)) agonist with autoimmune disease-modifying activity. (2016). British Journal of Pharmacology, 173(11), 1778-1792. PMCID: PMC4867749.
Guerrero, M., Urbano, M. & Roberts, E. Sphingosine 1-phosphate receptor 1 agonists: a patent review (2013-2015). (2016). Expert Opinion on Therapeutic Patents, 26(4), 455-470.
Dillmann, C., Ringel, C., Ringleb, J., Mora, J., Olesch, C., Fink, A. F., Roberts, E., Brüne, B. & Weigert, A. S1PR4 signaling attenuates ILT 7 internalization to limit IFN-α production by human plasmacytoid dendritic cells. (2016). Journal of Immunology, 196(4), 1579-1590.
Schreiber, S. L., Kotz, J. D., Li, M., Aube, J., Austin, C. P., Reed, J. C., Rosen, H., White, E. L., Sklar, L. A., Lindsley, C. W., Alexander, B. R., Bittker, J. A., et al. Advancing biological understanding and therapeutics discovery with small-molecule probes. (2015). Cell, 161(6), 1252-1265. PMCID: PMC4564295.
Urbano, M., Guerrero, M., Rosen, H. & Roberts, E. Antagonists of the kappa opioid receptor. (2014). Bioorganic & Medicinal Chemistry Letters, 24(9), 2021-2032.
Mittapalli, G. K. & Roberts, E. Structure activity relationships of novel antiepileptic drugs. (2014). Current Medicinal Chemistry, 21(6), 722-754.