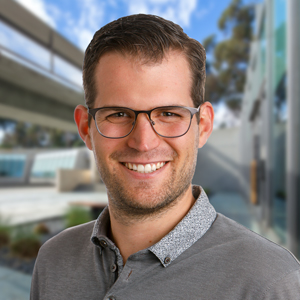 Michael Erb, PhD
Email
---
Scripps Research Joint Appointments
---
Research Focus
The coordinated rewiring of cellular state during oncogenesis is reliant upon dysregulated transcriptional programs. We are principally focused on the basic research and therapeutic discovery of targets controlling chromatin-dependent transcriptional signaling in cancer. Ultimately, our studies are aimed at accelerating new understandings of pathogenic transcription and advancing novel chemical tools and therapeutic directions. Ongoing projects are placed within several stages of preclinical drug discovery and include: (1) functional genomics to identify transcriptional regulators involved in cancer growth or drug resistance, (2) chemical discovery to fashion biologically useful small-molecule probes, and (3) mechanistic study of transcriptional target biology using kinetically acute chemical perturbations. For more information about our team and research program, please follow the link above to our group's website.
---
Education
B.A., Biochemistry, Claremont McKenna College
Ph.D., Biological and Biomedical Sciences, Harvard University
---
Selected References
Bishop TR, Subramanian C, Bilotta EM, Garnar-Wortzel L, Ramos AR, Zhang Y, Asiaban JN, Ott CJ, Rock CO, Erb MA. Metabolic adaptations underpin resistance to histone acetyltransferase inhibition. bioRxiv 2022. https://www.biorxiv.org/content/10.1101/2022.08.12.503669v1
Yuxiang Zhang, David Remillard, Ugoma Onubogu, Barbara Karakyriakou, Joshua N Asiaban, Anissa R Ramos, Kirsten Bowland, Timothy R Bishop, Christopher J Ott, Michalina Janiszewska, Benjamin F Cravatt, Michael A Erb. Collateral lethality between HDAC1 and HDAC2 exploits cancer-specific NuRD complex vulnerabilities. bioRxiv 2022. https://www.biorxiv.org/content/10.1101/2022.05.30.493851v1.full
Garnar-Wortzel L,* Bishop TR,* Kitamura S,* Milosevich N, Asiaban JN, Zhang X, Zheng Q, Chen E, Ramos AR, Ackerman CJ, Hampton EN, Chatterjee AK, Young TS, Hull MV, Sharpless KB, Cravatt BF, Wolan DW, Erb MA. Chemical inhibition of ENL/AF9 YEATS domains in acute leukemia. ACS Cent Sci 2021. https://doi.org/10.1021/acscentsci.0c01550
Asiaban, JN; Milosevich, N; Chen, E; Bishop, TR; Wang, J; Zhang, Y; Ackerman, CJ; Hampton, EN; Young, TS; Hull, MV; Cravatt, BF.; Erb, MA. Cell-Based Ligand Discovery for the ENL YEATS Domain. ACS Chem Biol 2020, 15 (4), 895–903. https://doi.org/10.1021/acschembio.0c00124.
Winter GE*, Mayer A*, Buckley DL*, Erb MA*, Roderick JE, Vittori S, Reyes J, Iuilo J d, Souza A, Ott CJ, Roberts JM, Zeid R, Scott TG, Paulk J, Lachance K, Olson Calla, Dastjerdi S, Bauer S, Lin CY, Gray NS, Kelliher MA, Churchman LS†, Bradner JE†. BET bromodomain proteins function as master transcription elongation factors independent of CDK9 recruitment. Molecular Cell 67, 5–8.e19 (2017). PMCID: PMC5663500. *Equal contribution. †Corresponding author.
Erb MA, Scott TG, Li BE, Xie H, Paulk J, Seo H-S, Souza A, Roberts JM, Dastjerdi S, Buckley DL, Sanjana NE, Shalem O, Nabet B, Zeid R, Offei-Addo NK, Dhe-Paganon S, Zhang F, Orkin SH, Winter GE, Bradner JE. Transcription control by the ENL YEATS domain in acute leukemia. Nature 543, 270-274 (2017). PMCID: PMC5497220.
---
Links