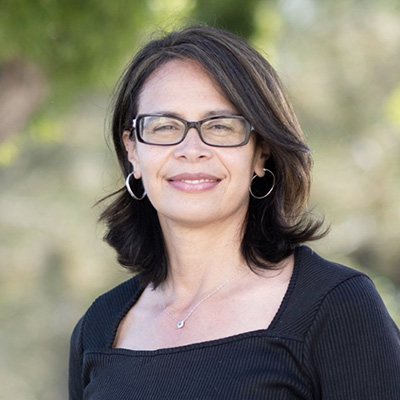 Sandra Encalada, PhD
Email
---
Scripps Research Joint Appointments
---
Research Focus
Intracellular Transport and Neurodegeneration
Our lab is interested in characterizing the interactions between molecular motors and their vesicular cargo to regulate axonal transport in neurons. We use a combination of cell biology, genetics, biochemistry, and high-resolution microscopy in mammalian neurons and in the soil nematode Caenorhabditis elegans, to identify and characterize motor-cargo regulatory complexes.
We also seek to integrate and extend our knowledge of motor regulation to dissect the role that defective vesicular transport plays in the accumulation of misfolded proteins inside axons, and scrutinize the hypothesis that this contributes to or causes neurodegeneration. We use mammalian and C. elegans systems to build models of protein aggregation diseases including prion diseases, Alzheimer's disease, Amyotrophic Lateral Sclerosis (ALS), tauopathies, and transthyretin (TTR) amyloidosis-related diseases, to characterize the role of motor-based transport in toxicity and infectivity.
---
Education
Diploma, International Baccalaureate (IB), United World College - USA
B.A., Physics, Earlham College
M.S., Population Genetics, University of Florida
Ph.D., Molecular Genetics, Institute of Molecular Biology, University of Oregon
---
Professional Experience
2021-Present Arlene and Arnold Goldstein Associate Professor, Dept. of Molecular Medicine, and Dorris Neuroscience Center
Investigator, Scripps Research.

2011-2021 Arlene and Arnold Goldstein Assistant Professor, Dept. of Molecular Medicine, and Dorris Neuroscience Center Investigator, Scripps Research.
2008-2011 Assistant Project Scientist. Neuroplasticity of Aging Fellow. University of California, San Diego.
2004-2008 Damon Runyon Cancer Research Foundation Postdoctoral Research Fellow. Dept. Cellular and Molecular Medicine, University of California, San Diego.
---
Awards & Professional Activities
The Glenn Award for Research in Biological Mechanisms of Aging, 2015
The Baxter Foundation Young Faculty Award, 2015
The Ellison Medical Foundation New Scholar in Aging Award 2012-1016
Damon Runyon Cancer Research Foundation Postdoctoral Fellowship, 2004-2007
NIH Biophysics and Molecular Biology Pre-doctoral Training Grant, 1998-2003
Pre-doctoral Research Training Grant in Genetic Mechanisms of Evolution, 1997-1998
Phi Kappa Phi Honor Society, 1995
Sigma Xi, The Scientific Research Society, 1992
Warren Staebler Scholarship, Earlham College, 1991
Undergraduate Studies Scholarship, Earlham College, 1988-1992
International Scholarship, The Armand Hammer United World College of the American West, 1986-1988
---
Selected References
Chassefeyre R, Chaiamarit T, Verhelle A, Novak SW, Andrade LR, Manor U, Encalada SE. Endosomal Sorting Drives the Formation of Mutant Prion Endoggresomes. Science Advances 2021 Dec 24;7(52):eabg3693. Pubmed PMID: 34936461; Pubmed PMCID: PMC8694590. Cover article, Science Advances 7(52), 22 December 2021; DOI: 10.1126/sciadv.abg3693.
Nieto-Torres JL, Encalada SE, Hansen M. 2021. LC3B phosphorylation: Autophagosome's ticket for a ride toward the cell nucleus. Autophagy, DOI: 10.1080/15548627.2021.1961073.
Race B, Williams K, Baune C, Striebel JF, Encalada SE, Chesebro B. 2021. Deletion of Kif5c does not alter prion disease tempo or spread in mouse brain. Viruses 13(7), 1391; https://doi.org/10.3390/v13071391.
Nieto-Torres JL, Shanahan S-L, Chassefeyre R, Landeras-Bueno S, Encalada SE*, Hansen M*. 2021. LC3 phosphorylation regulates FYCO1 binding and directional transport of autophagosomes. Current Biology Aug 9;31(15):3440-3449.e7. doi: 10.1016/j.cub.2021.05.052. Epub 2021 Jun 18. PubMed PMID: 34146484; NIHMSID:NIHMS1717570.
* Co-corresponding authors.
Butler VJ, Salazar DA, Soriano-Castell D, Alves-Ferreira M, Dennissen FJA, Vohra M, Oses-Prieto JA, Li KH, Wang AL, Jing B, Li B, Groisman A, Gutierrez E, Mooney S, Burlingame AL, Ashrafi K, Mandelkow EM, Encalada SE, Kao AW. 2018. Tau/MAPT disease-associated variant A152T alters tau function and toxicity via impaired retrograde axonal transport. Hum Mol Genet. Epub 2018/12/28. doi: 10.1093/hmg/ddy442. PubMed PMID: 30590647. PMCID: PMC6489414.
Madhivanan K GE, Alves-Ferreira M, Soriano-Castell D, Rouzbeh N, Aguirre CA, Paulsson JF, Chapman J, Jian X, Ooi FK, Lemos C, Dillin A, Prahlad V, Kelly JW, Encalada SE. 2018. Cellular clearance of circulating transthyretin decreases cell non-autonomous proteotoxicity in Caenorhabditis elegans. Proc Natl Acad Sci U S A. Jul 30. pii: 201801117. doi: 10.1073/pnas.1801117115. [Epub ahead of print] PMID:30061394.
Neumann S, Chassefeyre R, Campbell GE, Encalada SE. 2017. KymoAnalyzer: a software tool for the quantitative analysis of intracellular transport in neurons. Traffic Jan;18(1):71-88. doi: 10.1111/tra.12456. PubMed PMID: 27770501.
Rangaraju S, Solis GM, Thompson RC, Gomez-Amaro RL, Kurian L, Encalada SE, Niculescu AB, Salomon DR, Petrascheck M. 2015. Suppression of transcriptional drift extends C. elegans lifespan by postponing the onset of mortality. eLife 4. doi: 10.7554/eLife.08833. PubMed PMID: 26623667.
Baranczak A, Liu Y, Connelly S, Dan DU, W-E; Greiner ER, Genereux JC, Wiseman RL, Eisele YS, Bradbury NC, Dong J, Noodleman L, Sharpless KB, Wilson IA, Encalada SE*, Kelly JW*. A Fluorogenic Aryl Fluorosulfate for Intraorganellar Transthyretin Imaging in Living Cells and in Caenorhabditis elegans" J. Am. Chem. Soc. 2015;137(23):7404-14. doi: 10.1021/jacs.5b03042. PubMed PMID: 26051248; NIHMSID 696951. *Co-corresponding authors.
Eisele YS, Monteiro C, Fearns C, Encalada SE, Wiseman RL, Powers ET, Kelly JW. 2015. Targeting Protein Aggregation to Ameliorate Degenerative Diseases. Nature Reviews Drug Discovery Nov;14(11):759-80. doi:10.1038/nrd4593. Published online 4 September 2015; NIHMSID 696850.
Neumann S, Campbell GE, Szpankowski L, Goldstein LSB, Encalada SE*. 2014. Characterizing the Composition of Molecular Motors on Moving Axonal Cargo Using "Cargo Mapping" Analysis. JoVE (92), October 30, e52029, doi:10.3791/52029. *Corresponding author.
Encalada SE*, Goldstein LSB*. 2014. Biophysical Challenges to Axonal Transport: Motor-Cargo Deficiencies and Neurodegeneration. Annual Review of Biophysics 43:7.1-7.29. doi:10.1146/annurev-biophys-051013-022746. *Co-corresponding authors.
Otero MG, Alloatti M, Cromberg LE, Almenar-Queralt A, Encalada SE, Pozo Devoto VM, Goldstein LSB, Falzone TL. 2014. Fast axonal transport of the proteasome complex depends on membrane interaction and molecular motor function. J. Cell Sci. 127: 1537-1549.
Szpankowski LJ, Encalada SE, Goldstein LSB. 2012. Subpixel colocalization reveals amyloid precursor protein-dependent kinesin-1 and dynein association with axonal vesicles. Proc Natl Acad Sci U S A. 109(22):8582-7. PMCID:PMC3365224.
Encalada SE*, Szpankowski LJ, Xia C-H, Goldstein LSB*. 2011. Stable Kinesin and Dynein Assemblies Drive the Axonal Transport of Mammalian Prion Protein Vesicles. Cell 144: 551–565. *Co-corresponding authors.
Encalada SE, Goldstein LSB. 2009. Axonal Transport of the Prion Protein and Prion Neuroinvasion. In: The New Encyclopedia of Neuroscience (Larry Squire, ed.). Elsevier, Oxford, UK, pp. 1071-1075
Encalada SE, Moya KL, Lehmann S, Zahn R. 2008. The role of the prion protein in the molecular basis for synaptic plasticity and nervous system development. Journal of Molecular Neuroscience 34(1):9-15. Epub 2007 Jun 14.
Encalada, SE, Willis J, Lyczak R, Bowerman B. A 2005. Spindle Checkpoint Functions During Mitosis in the Early C. elegans Embryo. Molecular Biology of the Cell 16: 1056-1070.
Gomes J-E, Encalada SE, Swan KA, Shelton CA, Carter JC, Bowerman B. 2001. The maternal gene spn-4 encodes a predicted RRM protein required for mitotic spindle orientation and cell fate patterning in early C. elegans embryos. Development 128:4301-4314.
Encalada SE, Martin PR , Phillips JB, Lyczak R, Hamill DR, Swan KA, Bowerman B. 2000. DNA replication defects delay cell division and disrupt cell polarity in early Caenorhabditis elegans embryos. Developmental Biology 228:225-238.