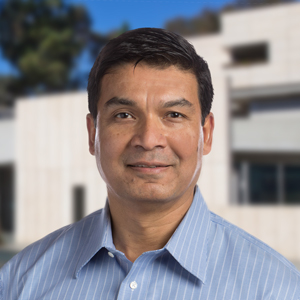 Darryl D'Lima, MD
Email
---
Education
University of Bombay, 1982
---
Professional Experience
2017-2017 Associate Professor of Molecular Medicine, Molecular Medicine, Scripps Research
2012-2017 Associate Professor of Molecular Medicine, Molecular and Experimental Medicine (MEM), Scripps Research
2005-2012 Assistant Professor, Division of Arthritis Research, Scripps Research
1998-2012 Assistant Professor of Molecular Medicine, Molecular and Experimental Medicine (MEM), Scripps Research
1996-2001 Head, Joint Mechanics Laboratory (La Jolla), Scripps Clinic, Scripps Health
1998-2000 Adjunct Assistant Professor, Division of Arthritis Research, Scripps Research
1994-1996 Orthopaedic Research Fellow (La Jolla), Scripps Clinic, Scripps Health
---
Selected References
Gaul, F., Bugbee, W. D., Hoenecke, H. R. & D'Lima, D. D. A review of commercially available point-of-care devices to concentrate bone marrow for the treatment of osteoarthritis and focal cartilage lesions. (2019). Cartilage, 10(4), 387-394. PMCID: PMC6755874.
Baek, J., Lotz, M. K. & D'Lima, D. D. Core-shell nanofibrous scaffolds for repair of meniscus tears. (2019). Tissue Engineering Part A,
Kebbach, M., Grawe, R., Geier, A., Winter, E., Bergschmidt, P., Kluess, D., D'Lima, D., Woernle, C. & Bader, R. Effect of surgical parameters on the biomechanical behaviour of bicondylar total knee endoprostheses - A robot-assisted test method based on a musculoskeletal model. (2019). Scientific Reports, 9. PMCID: PMC6787084.
Chen, B., Cheng, X., Dorthe, E. W., Zhao, Y., D'Lima, D., Bydder, G. M., Liu, S., Du, J. & Ma, Y. J. Evaluation of normal cadaveric Achilles tendon and enthesis with ultrashort echo time (UTE) magnetic resonance imaging and indentation testing. (2019). NMR in Biomedicine, 32.
Samiezadeh, S., Bougherara, H., Abolghasemian, M., D'Lima, D. & Backstein, D. Rotating hinge knee causes lower bone-implant interface stress compared to constrained condylar knee replacement. (2019). Knee Surgery Sports Traumatology Arthroscopy, 27(4), 1224-1231.
Taniguchi, N., D'Lima, D. D., Suenaga, N. & Chosa, E. A new scale measuring translation of the humeral head as a prognostic factor for the treatment of large and massive rotator cuff tears. (2018). Journal of Shoulder and Elbow Surgery, 27(2), 196-203.
Jerban, S., Ma, Y., Nazaran, A., Dorthe, E. W., Cory, E., Carl, M., D'Lima, D., Sah, R. L., Chang, E. Y. & Du, J. Detecting stress injury (fatigue fracture) in fibular cortical bone using quantitative ultrashort echo time-magnetization transfer (UTE-MT): An ex vivo study. (2018). Nmr in Biomedicine, 31.
Geier, A., Aschemann, H., D'Lima, D., Woernle, C. & Bader, R. Force closure mechanism modeling for musculoskeletal multibody simulation. (2018). IEEE Transactions on Biomedical Engineering, 65(11), 2482-2493.
Grogan, S. P., Duffy, S. F., Pauli, C., Lotz, M. K. & D'Lima, D. D. Gene expression profiles of the meniscus avascular phenotype: A guide for meniscus tissue engineering. (2018). Journal of Orthopaedic Research, 36(7), 1947-1958.
Lee, K. I., Lee, J. S., Kang, K. T., Shim, Y. B., Kim, Y. S., Jang, J. W., Moon, S. H. & D'Lima, D. D. In vitro and in vivo performance of tissue-engineered tendons for anterior cruciate ligament reconstruction. (2018). American Journal of Sports Medicine, 46(7), 1641-1649.