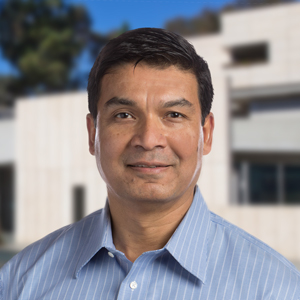 Darryl D'Lima, MD
---
Education
University of Bombay, 1982
---
Professional Experience
2017-2017 Associate Professor of Molecular Medicine, Molecular Medicine, Scripps Research
2012-2017 Associate Professor of Molecular Medicine, Molecular and Experimental Medicine (MEM), Scripps Research
2005-2012 Assistant Professor, Division of Arthritis Research, Scripps Research
1998-2012 Assistant Professor of Molecular Medicine, Molecular and Experimental Medicine (MEM), Scripps Research
1996-2001 Head, Joint Mechanics Laboratory (La Jolla), Scripps Clinic, Scripps Health
1998-2000 Adjunct Assistant Professor, Division of Arthritis Research, Scripps Research
1994-1996 Orthopaedic Research Fellow (La Jolla), Scripps Clinic, Scripps Health
---
Selected References
Taniguchi, N., D'Lima, D. D., Suenaga, N. & Chosa, E. A new scale measuring translation of the humeral head as a prognostic factor for the treatment of large and massive rotator cuff tears. (2018). Journal of Shoulder and Elbow Surgery, 27(2), 196-203.
Lee, K. I., Lee, J. S., Kang, K. T., Shim, Y. B., Kim, Y. S., Jang, J. W., Moon, S. H. & D'Lima, D. D. In vitro and in vivo performance of tissue-engineered tendons for anterior cruciate ligament reconstruction. (2018). American Journal of Sports Medicine, 46(7), 1641-1649.
Baek, J., Sovani, S., Choi, W., Jin, S., Grogan, S. P. & D'Lima, D. D. Meniscal tissue engineering using aligned collagen fibrous scaffolds: comparison of different human cell sources. (2018). Tissue Engineering Part A, 24(1-2), 81-93. PMCID: PMC5770095.
Nielsen, E. S., Hsu, A., Patil, S., Colwell, C. W. & D'Lima, D. D. Second-generation electronic ligament balancing for knee arthroplasty: a cadaver study. (2018). Journal of Arthroplasty, 33(7), 2293-2300.
Meckes, J. K., Carames, B., Olmer, M., Kiosses, W. B., Grogan, S. P., Lotz, M. K. & D'Lima, D. D. Compromised autophagy precedes meniscus degeneration and cartilage damage in mice. (2017). Osteoarthritis and Cartilage, 25(11), 1880-1889. PMCID: PMC5650923.
Geier, A., Kluess, D., Grawe, R., Herrmann, S., D'Lima, D., Woernle, C. & Bader, R. Dynamical analysis of dislocation-associated factors in total hip replacements by hardware-in-the-loop simulation. (2017). Journal of Orthopaedic Research, 35(11), 2557-2566.
D'Lima, D. D. & Colwell, C. W. Intraoperative measurements and tools to assess stability. (2017). Journal of the American Academy of Orthopaedic Surgeons, 25, S29.
Grogan, S. P., Pauli, C., Lotz, M. K. & D'Lima, D. D. Relevance of meniscal cell regional phenotype to tissue engineering. (2017). Connective Tissue Research, 58(3-4), 259-270. PMCID: PMC5433889.
Mouser, V. H. M., Levato, R., Bonassar, L. J., D'Lima, D. D., Grande, D. A., Klein, T. J., Saris, D. B. F., Zenobi-Wong, M., Gawlitta, D. & Malda, J. Three-dimensional bioprinting and its potential in the field of articular cartilage regeneration. (2017). Cartilage, 8(4), 327-340. PMCID: PMC5613889.
Taniguchi, N., D'Lima, D. D., Suenaga, N., Ishida, Y., Lee, D., Goya, I. & Chosa, E. Translation of the humeral head scale is associated with success of rotator cuff repair for large-massive tears. (2017). BMC Musculoskeletal Disorders, 18. PMCID: PMC5715556.