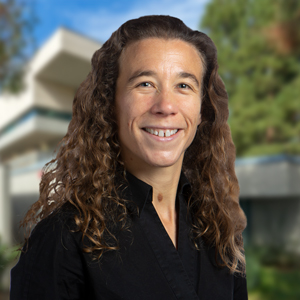 Candice Contet, PhD
Email
---
Scripps Research Joint Appointments
---
Research Focus
Alcohol use disorders (AUDs) are characterized by the loss of control over alcohol consumption and the emergence of negative emotionality during abstinence from alcohol. AUDs affect 16 million people in the United States alone and alcohol misuse represents the first risk factor for premature death and disability in young adults worldwide. Current treatment options for AUDs include three FDA-approved medications as well as behavioral therapies, but AUDs have a high rate of relapse even in treated individuals. There is a dire need for more efficient therapeutic strategies and a deep understanding of the neurobiological mechanisms mediating the behavioral symptoms of AUDs is a prerequisite for the rational development of targeted therapies.
While the brain regions and neurotransmitter systems affected by chronic alcohol exposure are well characterized, our understanding of the specific neural circuits and molecular events driving drinking escalation and negative affect during withdrawal remains limited. The Contet laboratory seeks to fill this gap of knowledge by identifying molecular and circuit mechanisms that causally contribute to the behavioral symptoms of AUDs. To achieve this goal, our projects combine behavioral models of excessive alcohol drinking in mice with genetic engineering methods enabling the manipulation of gene expression and neuronal activity. Learn more about our research projects on our lab website (https://www.contetlab.com/).
Ultimately, our hope is to curb the devastating impact of alcoholism and drug addiction on individuals, their family and the community as a whole, through the identification of vulnerable populations and the development of better treatments. If you share our dedication to this goal, you can help our research by making a donation to the Pearson Center. Your support will make a difference.
---
Education
Ph.D., University of Strasbourg, 2006
---
Professional Experience
2016-2017 Associate Professor, Committee on the Neurobiology of Addictive Disorders (CNAD), Scripps Research
2008-2016 Assistant Professor, Committee on the Neurobiology of Addictive Disorders (CNAD), Scripps Research
---
Awards & Professional Activities
2010: Travel award from the National Institute on Alcohol Abuse and Alcoholism to attend the International Society for Biomedical Research on Alcoholism Congress in Paris, France
2006-2007: Postdoctoral fellowship (Fondation pour la Recherche Médicale)
2002-2005: PhD fellowship, coupled to teaching duties (French Research Ministry)
2005: Travel award from the Federation of European Neuroscience Societies to attend the 35th Annual Meeting of the American Society for Neuroscience in Washington DC, USA
2005: Travel award from the International Narcotics Research Conference to attend the NIDA "Frontiers of Addiction" Mini-Convention in Washington DC, USA
1998-2002: Pregraduate fellowship, as a civil servant trainee at École Normale Supérieure
---
Selected References
Kreifeldt K, Herman MA, Sidhu H, Okhuarobo A, Macedo GC, Shahryari R, Gandhi PJ, Roberto M, Contet C (2022) Central amygdala corticotropin-releasing factor neurons promote hyponeophagia but do not control alcohol drinking in mice. Molecular Psychiatry, online ahead of print.
Shah T, Dunning JL, Contet C (2022) At the heart of the interoception network: Influence of the parasubthalamic nucleus on autonomic functions and motivated behaviors. Neuropharmacology, 204:108906.
Avchalumov Y, Oliver RJ, Trenet W, Heyer Osorno RE, Sibley BD, Purohit DC, Contet C, Roberto M, Woodward JJ, Mandyam CD (2021) Chronic ethanol exposure differentially alters neuronal function in the medial prefrontal cortex and dentate gyrus. Neuropharmacology, 185:108438.
Okhuarobo A, Bolton JL, Igbe I, Zorrilla EP, Baram TZ, Contet C (2020) A novel mouse model for vulnerability to alcohol dependence induced by early-life adversity. Neurobiol Stress, 13:100269.
Xu J, Ma HY, Liu X, Rosenthal S, Baglieri J, McCubbin R, Sun M, Koyama Y, Geoffroy CG, Saijo K, Shang L, Nishio T, Maricic I, Kreifeldt M, Kusumanchi P, Roberts A, Zheng B, Kumar V, Zengler K, Pizzo DP, Hosseini M, Contet C, Glass CK, Liangpunsakul S, Tsukamoto H, Gao B, Karin M, Brenner DA, Koob GF, Kisseleva T (2020) Blockade of IL-17 signaling reverses alcohol-induced liver injury and excessive alcohol drinking in mice. JCI Insight, 5(3):e131277.
Agoglia AE, Zhu M, Ying R, Sidhu H, Natividad LA, Wolfe SA, Buczynski MW, Contet C, Parsons LH, Roberto M, Herman MA (2020) Corticotropin-Releasing Factor Receptor-1 Neurons in the Lateral Amygdala Display Selective Sensitivity to Acute and Chronic Ethanol Exposure. eNeuro, 5;7(2):ENEURO.0420-19.2020.
Kimbrough A, Lurie DJ, Collazo A, Kreifeldt M, Sidhu H, Macedo GC, D'Esposito M, Contet C, George O (2020) Brain-wide functional architecture remodeling by alcohol dependence and abstinence. Proc Natl Acad Sci USA, 117(4):2149-2159.
Goulding SP*, de Gulgielmo G*, Carrette LLG, George O, Contet C (2019) Systemic administration of the cyclin-dependent kinase inhibitor (S)-CR8 selectively reduces escalated ethanol intake in dependent rats. Alcohol Clin Exp Res, 43(10):2079-2089. (*: equal contributions)
Wolfe S*, Sidhu H*, Patel R*, Kreifeldt M, D'Ambrosio S, Contet C#, Roberto M# (2019) Molecular, morphological and functional characterization of corticotropin-releasing factor receptor 1-expressing neurons in the central nucleus of the amygdala. eNeuro, 6(3) a0087-19.2019 1-16. (*, #: equal contributions)
Sidhu H, Kreifeldt M, Contet C (2018) Affective disturbances during withdrawal from chronic intermittent ethanol inhalation in C57BL/6J and DBA/2J male mice. Alcohol Clin Exp Res, 42(7):1281-1290.
Schmeichel B*, Matzeu A*, Koebel P, Vendruscolo LF, Sidhu H, Shahryari R, Kieffer BL, Koob GF, Martin-Fardon R#, Contet C# (2018) Knockdown of Hypocretin Attenuates Extended-Access Cocaine Self-Administration in Rats. Neuropsychopharmacology, 43(12):2372-2382. (*, #: equal contributions)
Varodayan FP*, Sidhu H*, Kreifeldt M, Roberto M, Contet C (2018) Morphological and functional evidence of increased excitatory signaling in the prelimbic cortex during ethanol withdrawal. Neuropharmacology, 133:470-480. (*: equal contributions)
Verheij MM, Vendruscolo LF, Caffino L, Giannotti G, Cazorla M, Fumagalli F, Riva MA, Homberg JR, Koob GF, Contet C (2016) Systemic Delivery of a Brain-Penetrant TrkB Antagonist Reduces Cocaine Self-Administration and Normalizes TrkB Signaling in the Nucleus Accumbens and Prefrontal Cortex. J Neurosci 36(31):8149-59.
Herman MA, Contet C, Roberto M (2016) A functional switch in tonic GABA currents alters the output of central amygdala CRF receptor-1 neurons following chronic ethanol exposure. J Neurosci, 36(42):10729-10741.
Contet C, Goulding SP, Kuljis DA & Barth AL (2016) BK channels in the central nervous system. In Candice Contet (Ed), Big on BK: Current Insights into the Function of Large Conductance Voltage- and Ca2+- Activated K+ Channels at the Molecular, Cellular, and Systemic Levels. Int Rev Neurobiol, 128:281-342.
Munoz MB, Padgett CL, Rifkin R, Terunuma M, Wickman K, Contet C, Moss SJ, Slesinger PA (2016) A role for the GIRK3 subunit in methamphetamine-induced attenuation of GABAB receptor-activated GIRK currents in VTA dopamine neurons. J Neurosci, 36(11):3106-14.
Herman MA, Sidhu H, Stouffer DG, Kreifeldt M, Le D, Cates-Gatto C, Munoz MB, Roberts AJ, Parsons LH, Roberto M, Wickman K, Slesinger PA, Contet C (2015) GIRK3 gates activation of the mesolimbic dopaminergic pathway by ethanol. Proc Natl Acad Sci USA, 112(22):7091-6.
Schmeichel BE, Barbier E, Misra KK, Contet C, Schlosburg JE, Grigoriadis D, Williams JP, Karlsson C, Pitcairn C, Heilig M, Koob GF, Vendruscolo LF (2015) Hypocretin receptor 2 antagonism dose-dependently reduces escalated heroin self-administration in rats. Neuropsychopharmacology, 40(5):1123-9.
Kreifeldt M, Cates-Gatto C, Roberts AJ, Contet C (2015) BK channel β1 subunit contributes to behavioral adaptations elicited by chronic intermittent ethanol exposure. Alcohol Clin Exp Res, 39(12):2394-402.
Cohen A, Whitfield TW, Kreifeldt M, Koebel P, Kieffer BL, Contet C, George O, Koob GF (2014) Virus-mediated shRNA knockdown of prodynorphin in the rat nucleus accumbens attenuates depression-like behavior and cocaine locomotor sensitization. PLoS One, 9(5):e97216. Link
Kreifeldt M, Le D, Treistman SN, Koob GF, Contet C (2013) BK channel β1 and β4 auxiliary subunits exert opposite influences on escalated ethanol drinking in dependent mice. Front Integr Neurosci, 7:105. Link
Contet C, Kim A, Le D, Iyengar SK, Kotzebue RW, Yuan CJ, Kieffer BL, Mandyam CD (2013) μ-Opioid receptors mediate the effects of chronic ethanol binge drinking on the hippocampal neurogenic niche. Addict Biol, in press. Link
Herman MA, Contet C, Justice NJ, Vale W, Roberto M (2013). Novel subunit-specific tonic GABA currents and differential effects of ethanol in the central amygdala of CRF receptor-1 reporter mice. J Neurosci, 33(8):3284-98. Link
Contet C (2012) Gene expression under the influence: Transcriptional profiling of ethanol in the brain. Curr Psychopharm, 1(4):301-14. Link
Semenova S, Contet C, Roberts AJ & Markou A (2012) Mice lacking the b4 subunit of the nicotinic acetylcholine receptor show memory deficits, altered anxiety- and depression-like behavior, and diminished nicotine-induced analgesia. Nicotine Tob Res, 14(11):1346-55. Link
Contet C, Gardon O, Filliol D, Becker J, Koob GF & Kieffer BL (2011) Identification of genes regulated in the mouse extended amygdala by excessive ethanol drinking associated with dependence. Addiction Biology, 16(4):615-9. Link
Contet C, Whisler KN, Jarrell H, Kenny PJ & Markou A (2010) Patterns of responding differentiate intravenous nicotine self-administration from responding for a visual stimulus in C57BL/6J mice. Psychopharmacology (Berl), 212(3):283-99. Link
Homberg JR & Contet C (2009) Deciphering the interaction of the corticotropin-releasing factor and serotonin brain systems in anxiety-related disorders. J Neurosci, 29(44):13743-5. NIHMS 163482. Link
Scherrer G, Imamachi N, Cao YQ, Contet C, Mennicken F, O'Donnell D, Kieffer BL & Basbaum AI (2009) Dissociation of the opioid receptor mechanisms that control mechanical and heat pain. Cell, 137(6):1148-59. Link
Contet C, Filliol D, Matifas A & Kieffer BL (2008) Morphine-induced analgesic tolerance, locomotor sensitization and physical dependence do not require modification of m opioid receptor, cdk5 and adenylate cyclase activity. Neuropharmacology, 54(3):475-486. Link
Contet C, Dierich A & Kieffer BL (2007) Knock-in mice reveal nonsense-mediated mRNA decay in the brain. Genesis, 45(1):38-43. Link
Contet C, Gavériaux-Ruff C, Matifas A, Caradec C, Champy M-F & Kieffer BL (2006) Dissociation of analgesic and hormonal responses to forced swim stress using opioid receptor knockout mice. Neuropsychopharmacology, 31(8):1733-1744. Link
Grillet N, Pattyn A, Contet C, Kieffer BL, Goridis C & Brunet JF (2005) Generation and characterization of Rgs4 mutant mice. Mol Cell Biol, 25(10):4221-4228. Link
Contet C, Kieffer BL & Befort K (2004) m opioid receptor: a gateway to drug addiction. Curr Opin Neurobiol, 14(3): 370-378. Link
Contet C, Matifas A & Kieffer BL (2004) No evidence for G-protein-coupled ε receptor in the brain of triple opioid receptor knockout mouse. Eur J Pharmacol, 492(2-3): 131-136. Link
Scherrer G, Befort K, Contet C, Becker J, Matifas A & Kieffer BL (2004) The δ agonists DPDPE and deltorphin II recruit predominantly m receptors to produce thermal analgesia: a parallel study of m, δ and combinatorial opioid receptor knockout mice. Eur J Neurosci, 19(8): 2239-48. Link
Contet C, Rawlins JN & Bannerman DM (2001) Faster is not surer - A comparison of C57BL/6J and 129S2/Sv mouse strains in the watermaze. Behav Brain Res, 125 (1-2): 261-267. Link
Contet C, Rawlins JN & Deacon RM (2001) A comparison of 129S2/SvHsd and C57BL/6JOlaHsd mice on a test battery assessing sensorimotor, affective and cognitive behaviours: implications for the study of genetically modified mice. Behav Brain Res, 124(1): 33-46. Link
---
Links
Pearson Center for Alcoholism and Addiction Research
Integrative Neuroscience Initiative on Alcoholism (INIA)
Research Society on Alcoholism
International Society for Biomedical Research on Alcoholism