In Brief
Scripps Research Investigators Top Scientific Journal Angewandte Chemie List
The journal Angewandte Chemie has published a list of authors with the most publications in the journal between 1994 and 2003 (see www.angewandte.org.) The Scripps Research Institute's K.C. Nicolaou, chair of the Department of Chemistry, Aline W. and L.S. Skaggs Professor of Chemical Biology, and Darlene Shiley Chair in Chemistry, is first on the list with 97 publications. Also in the top 100 are Scripps Research investigators Professor Chi-Huey Wong, who is Ernest W. Hahn Professor and Chair in Chemistry; Professor Julius Rebek, Jr., who is director of the Scripps Research Skaggs Institute of Chemical Biology; Professor K. Barry Sharpless, Nobel laureate and W.M. Keck Professor; and Assistant Professor Phil Baran.

Society of Fellows Awards Symposium Prizes
The Society of Fellows has announced the winners of its July 28 Summer Poster Symposium:
• Academic Prizes. First-place winners are Elina Zuniga, Doug Daniels, Leslie Sharp, and Matt Trifilo. Second-place winners are Jilla Sabeti, Greg Springsteen, Katy Barglow, and Todd Holsher.
• Peoples vote. The first-place winner is Karine Crozat; second-place, Michelle Solomon.
• Prsenters vote. The first-place winner is Wendy Ochoa; second-place, Lan Xu.
To learn about future SOF activities, subscribe to postdocs@scripps.edu or visit the SOF web page.

Society of Fellows Lecture Series: "The World According to AIDS"
John Cohen, writer for the journal Science and author of the book "Shots in the Dark: The Wayward Search for an Aids Vaccine" will speak as part of the Society of Fellows Distinguished Lecturer Series on Thursday, August 5, at 4 PM. His lecture will include a discussion of how the AIDS epidemic is different in different parts of the world, the necessity of tailoring a local response to HIV, novel treatment and prevention studies, and possible new avenues of research.The event will be held in the Green Hospital Building, Timken Amphitheater. For more information contact John Offer, joffer@scripps.edu or x4-7065.

24 Hour Fitness Comes to Campus
Benefits Administration would like to announce that representatives from 24 Hour Fitness will be onsite Wednesday, August 11 from 11 AM to 2 PM to enroll employees in discounted memberships. The enrollment will be held in the Human Resources small conference room. Please stop by the front desk in Human Resources for assistance in locating the room. For additional information, contact Benefits at x4-8487.

Look for Next News&Views August 16
The next issue of News&Views will be published by Monday, August 16. The deadline for announcement and calendar submissions is Wednesday at noon for the following week's publication.
Send comments to: mikaono[at]scripps.edu

Who Won 72 Ribbons at the San Diego County Fair?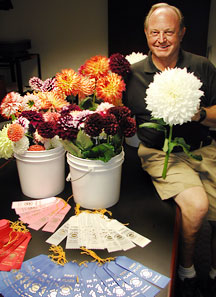 Scripps Research mail carrier Joe Berbrick won six dozen ribbons—22 of them firsts—for his dahlias at the San Diego County Fair this year. Three of his flowers were selected as "Dahlia of the Day." Photo by Kevin Fung.