Will Ray of Palm Beach County Promoted to Vice President of External Affairs
Will Ray, until recently director of external affairs for Scripps Florida in Palm Beach County, has been promoted to the position of vice president of external affairs for the entire Scripps Research Institute.
"After less than a year on the job overseeing fundraising and other activities related to Scripps Florida, our newly established division in Palm Beach County, Will has proven such a success that we want his knowledge and talents to guide the institute's entire development effort," said Scripps Research President Richard A. Lerner. "This recognition of his talent and productivity is very well deserved."
Ray, 58, will manage a department of 17 when new hiring is completed in Florida and La Jolla, California, headquarters of Scripps Research. He reports to Douglas A. Bingham, Scripps Research executive vice president and general counsel, and Lerner. He and his staff seek funds from corporations, charitable foundations, and private individuals. In the current year, Scripps Research will raise approximately $18 million from these sources towards a total operating budget of about $297 million.
"It is a personal honor to serve Scripps Research on both coasts," said Ray, "and an honor for Florida that California has brought a Floridian on to the Scripps Research senior management team." Ray will continue to operate primarily out of the Scripps Florida administrative offices in West Palm Beach, but will divide his time between Florida and California.
Ray, a native of Winston-Salem, North Carolina, did his undergraduate work at Wake Forest University in North Carolina, and earned both Master of Arts and Ph.D. degrees in English from the University of North Carolina at Chapel Hill.
After teaching, editing, and administrative positions with universities in Louisiana, Tennessee, North Carolina, and Florida, he was named president and chief executive officer of the Palm Beach County Cultural Council in 1982, a position he held until he joined Scripps Florida in 2003.
At the council, Ray was responsible for planning, funding and marketing local arts activities, including preparation for funding the Raymond F. Kravis Center for the Performing Arts (1983-85), developing the capital campaign for the Armory Art Center (1985-87), founding and managing Florida Philanthropy, a statewide conference organization (1996-99), and leading successful drives for a tourist development tax (1982) and a county parks and culture bond issue (2002).
Ray, an avocational musician, will continue to serve as organist at St. Edward's Roman Catholic Church in Palm Beach, with assistance from other musicians. He collects pop-up books and is completing restoration of an historic 1925 home on the Intracoastal Waterway in Lantana.
Send comments to: mikaono[at]scripps.edu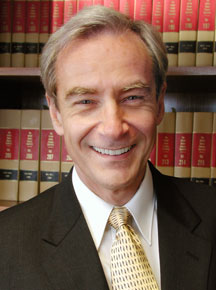 Will Ray, Scripps Research vice president of external affairs. Photo by Kevin Fung.