In Brief

Chen Receives Graduate Fellowship
Jason Chen, doctoral candidate in The Scripps Research Institute's Kellogg School of Science and Technology who is working in the Nicolaou lab, received a National Defense Science and Engineering Graduate Fellowship. This fellowship is sponsored by the Department of Defense through the Air Force Office of Scientific Research, the Office of Naval Research, the Army Research Office, and the High Performance Computing Modernization Program and is administered by the American Society for Engineering Education. Chen's application was selected from more than 3,200 entries.

Tuomainen Wins "Mom" Award
Scripps Research Executive Assistant Jan Tuomainen of Human Resources has been chosen as one of San Diego's 50 Best Moms through a student essay contest sponsored by Time Warner Cable and Channel 933 radio. Dan Ballister, vice president of public affairs for Time Warner, comments, "San Diego's 50 Best Moms essay contest honors local moms... for the selfless work they perform for their families and communities... [The students] have a real understanding of what their moms mean to them, even when the moms think they aren't listening." Tuomainen and Allie, who wrote the prize-winning essay on Tuomainen's behalf, attended a celebratory luncheon over the Mother's Day weekend.

Career Workshop Series: Fellowship Writing
A workshop on fellowship writing will be held for Scripps Research faculty, postdocs, and graduate students on Wednesday, May 26, from 1:30 to 3 PM, as part of the Career Workshop Series. The event, which was arranged by Associate Professor Luc Teyton, the Counseling and Postdoctoral Services Department, the Society of Fellows, and the Network for Women in Science at Scripps, will feature:
Director of the Kresge Library Paula King speaking on "Administrative Resources";
Teyton speaking on "Overview of Administrative/Scientific Aspects";
Associate Professor Wendy Havran and Associate Professor David Schlaepfer speaking on "PI/Reviewer Perspectives";
Research Associate Julie Jameson speaking on "Postdoc Perspectives."
The event will be held in the Keck Amphitheater of the Beckman Center.

Lunch & Learn: "Caregiving Connections in the Workplace"
Worried about your aging parents? ElderHelp of San Diego will present "Caregiving Connections in the Workplace" on Wednesday, May 19, from noon to 1 PM as part of the Lunch & Learn seminar series. The workshop will cover planning strategies and resources for eldercare, including: legal and financial safeguards for elders, home safety and housing options, long-distance caregiving, communication skills and family dynamics in caring for an aging parent, alleviating caregiver stress, and local resources. The event will be held in the W.M. Keck Amphitheater, Beckman Center. Contact Jan Hill, x4-2950, for more information.

New English-as-a-Second-Language Class to Begin
A new English-as-a-second-language class will begin Tuesday, May 25. The class meets from 6:30 to 8:30 every Tuesday evening in the Immunology Building west conference room. The price for three months (12 classes) is $60.
Each intermediate-level English class is divided into speaking and listening, idioms and vocabulary, and reading and writing. If you would like to improve your English communication skills as well as understand your friends and colleagues, movies, television shows, and the news, this class is for you. The instructor uses movies, games, television shows, grammar books, songs, drawing and novels to teach standard American English. For more information, leave a message at x4-2176.

TB Screenings, Hepatitis B Vaccines, Serum Draws, and Tetanus Immunizations
On Monday, May 24, Wednesday, May 26, and Friday, May 28, personnel from Sharp Rees-Stealy Medical Group will be on-site to conduct TB screenings, Hepatitis B immunizations, serum draws, and tetanus immunizations. The clinics will be conducted at the Administrative Offices (3301 North Torrey Pines Court) on the P1 level from 11 AM to 2 PM. No appointments are necessary. TB screening requires a 48 to 72 hour follow-up. Individuals receiving the TB screen on Monday will need to return on Wednesday, and individuals screened on Wednesday, will need to return on Friday. Initiation of the TB screening process will not be available on Friday, but Hepatitis B immunization, serum draws, and Tetanus immunizations will be. To learn more about these programs, see the Environmental Health & Safety Occupational Medicine web page, which includes a map and patient information sheets.
Send comments to: mikaono[at]scripps.edu

San Diego City Schools Honor Scripps Research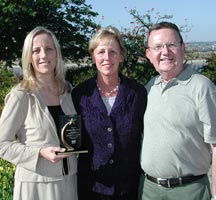 San Diego City Schools honored The Scripps Research Institute with an A+ Award for "exemplary support and commitment to Partnerships in Education" last week at a ceremony at Seaworld. Here, Jennifer O'Sullivan (left) and Keith McKeown (right) of Scripps Research Communications stand with Kim Bess, science director for San Diego City Schools.