In Brief

Lerner Receives Honorary Degree from Florida Atlantic University
Richard A. Lerner, president of The Scripps Research Institute, received an honorary degree from Florida Atlantic University on April 30.
Lerner's 30-year scientific career encompasses a broad scope of seemingly disparate activities in biomedical research, ranging from insights into protein structure to identification of a sleep-inducing lipid.
Recent work, and that for which he is perhaps best known, involves groundbreaking discoveries of converting antibodies into enzymes, permitting the catalysis of chemical reactions considered impossible to achieve by classical chemical procedures. The work has resulted in the possibility of producing antibodies overnight for obtaining an almost limitless variety of products beyond natural ones with an efficiency that may exceed that of natural enzymes.

Behrens, Hedlund, and Kenny Win Young Investigator Awards
The National Alliance for Research on Schizophrenia and Depression has honored four investigators at Scripps Research with Young Investigator Awards, which provide support for promising young neurobiologists. In addition to Research Associate Stephan Millar, whose award was reported in News&Views last week, these investigators include:
Assistant Professor M. Margarita Behrens, who is working on "Impaired NMDA Receptor-Mediated Drive of Inhibitory Chandelier Interneurons: A Hypoglutmatergic Mechanism of Schizophrenia";
Research Associate Peter B. Hedlund, who is working on "The 5-HT7 Receptor—The Missing Link in Depression?"; and

Barbas to Speak in Faculty Lecture Series
Scripps Research Professor Carlos Barbas III will speak on "Polydactyl Zinc Finger Proteins: Developing Strategies to Control and Discover Genes," on Wednesday, May 12, as part of the Faculty Lecture Series. The lecture will be held at 5 PM in the Valerie Timken Amphitheater, Scripps Clinic, 10666 North Torrey Pines Road. No reservations are necessary.

Lunch & Learn: "Caregiving Connections in the Workplace"
Worried about your aging parents? ElderHelp of San Diego will present "Caregiving Connections in the Workplace" on Wednesday, May 19, from noon to 1 PM as part of the Lunch & Learn seminar series. The workshop will cover planning strategies and resources for eldercare, including: legal and financial safeguards for elders, home safety and housing options, long-distance caregiving, communication skills and family dynamics in caring for an aging parent, alleviating caregiver stress, and local resources. The event will be held in the W.M. Keck Amphitheater, Beckman Center. Contact Jan Hill, x4-2950, for more information.

Health Fair Heads-Up
The fifth annual Scripps Research Health Fair will be held on Wednesday, May 26 from 11 AM to 1 PM on the walkway in front of the Immunology Building. A variety of health and wellness topics will be addressed including fitness, nutrition, and safety. There will be health and wellness screenings, fitness and recreation demonstrations, chair massages, giveaways, and food samples from your favorite local restaurants. All Scripps Research employees and graduate students are invited to participate in this fun and educational event.
Send comments to: mikaono[at]scripps.edu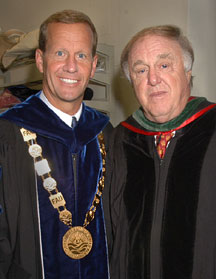 Frank Brogan (left), president of Florida Atlantic University, congratulates Richard A. Lerner, president of Scripps Research, on his honorary degree.