In Brief
Career Workshops for Postdocs
Coming up in the Career Workshop Series are two seminars focusing on job-hunting skills for young scientists:
The "CV/Resume-Writing Workshop," on Wednesday, May 5 from 10 to 11:30 AM, at he Keck Amphitheater, will feature Barbara Coleman of PharmaScouts.


The "Interviewing Workshop," on Wednesday, May 5 from 2 to 3:30 PM, at the Keck Amphitheater, will feature Mary Yaroshevsky-Glanville, senior director of human capital for Anadys Parmaceuticals, on "Initial HR Interviews;" Luc Teyton, associate professor at The Scripps Research Institute, on "Academic vs. Industry Interviews;" and Duncan McRee, president of ActiveSight, on "Hiring Manager Interviews." A question-and-answer period with the speakers and recently interviewed Scripps Research postdocs will follow.
These workshops are arranged by Teyton, the Counseling and Postdoctoral Services Department, the Society of Fellows, and the Network for Women in Science at Scripps.

Submissions for Scientific Report Due May 7
All submissions for the 2004 Scientific Report are due at noon on Friday, May 7. You may submit your report in one of two ways:
1) By putting your submission on a disk and giving it with a printout to your departmental administrator (as reports have been submitted in the past),
2) By sending a file via email to Jann Coury of the Communications Office at jcoury@scripps.edu and giving a printout to your departmental administrator. Guidelines for submitting reports are available at http://www.scripps.edu/services/comm/sr2004guide.pdf.
In addition, for investigators who hold joint appointments in The Skaggs Institute for Chemical Biology, the Skaggs Institute Report submissions will be due Friday, September 10. Submission guidelines are available online at: http://www.scripps.edu/services/comm/sk2004guide.pdf.

Mother's Day Shopping at the Spring Craft Fair
The Spring Craft Fair—featuring woodwork, orchids, pottery, grapevine wreaths, baked goodies, jewelry, plants, and handcrafted African "Chondos" bags for sale by Scripps Research employees—will be held from 11 AM to 2 PM on Thursday, April 29 in Immunology Galleria and walkway in front of the Immunology Building. ScrippsAssists will hold a raffle to support its projects. For more information, contact Bonnie Towle, btowle@scripps.edu.
Send comments to: mikaono[at]scripps.edu

Marilyn Gutierrez Retires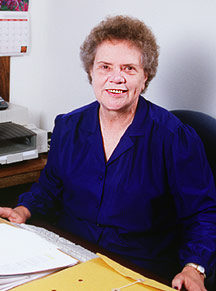 Marilyn Gutierrez, Human Resources information systems manager, retired on April 22 after over 23 years with Scripps Research. "It has been a great experience working here and seeing TSRI evolve to what it is today," she says. "It has been interesting and challenging the whole time." Gutierrez plans to spend more time with her family, enroll in classes, and travel with her husband. Later this year, they plan to go to New Orleans, Kansas City, and Las Vegas.