In Brief
Lunch and Learn: "Welcome to California: Navigating the Roads and Your Vehicle"
David Skaien and Elaine Beno of the Auto Club of Southern California will give a workshop entitled "Welcome to California: Navigating the Roads and Your Vehicle" on Wednesday, March 24, from noon to 1 PM as part of the ongoing Lunch and Learn seminar series. Topics include vehicle registration, mandatory smog requirements, road conditions, tires, fuel conservation, and the "five vital fluids." The speakers will also address the questions of how to develop a maintenance strategy plan, detect breakdown symptoms, and locate a trustworthy mechanic. Participants are invited to stay for questions and an under-the-hood survey of a vehicle engine. The event will be held in the W.M. Keck Amphitheater, The Beckman Center for Chemical Sciences, and was arranged by Jan Hill of Counseling and Postdoctoral Services. No reservations are necessary.

Latte Lovers Delight
A new coffee cart selling specialty coffees, such as lattes, mochas, and espressos, opened this week in front of the Immunology Building. "We've had a good response," says Andrew Shih of the cafeteria, who had the idea for the cart with his wife, Yung. "We're offering European-style coffee—people can taste the difference."

Toastmasters Tuesday
The SOS Toastmasters Club, which helps individuals develop a successful public speaking style, will meet Tuesday, March 9, at 12:15 PM, on the third floor conference room of the Beckman Building.

Reminder: Mental Health Benefit
Benefits Administration would like to remind all Scripps Research medical plan participants of the mental health benefit provided through United Behavioral Health (UBH). Participants and their dependents are covered for up to 40 outpatient visits per year. Outpatient visits to an in-network provider, which require pre-authorization by UBH, entail a $20 co-payment. (For Scripps Research graduate students and their dependents, authorized in-network visits are covered in full.) Outpatient visits to a non-network provider do not require pre-authorization and are covered at 50 percent of the usual and customary rate. The UBH plan also covers inpatient services, including psychiatric and chemical dependency treatment (which also require pre-authorization). For further details or for help with claims, contact UBH at (800) 888-2998, Human Resources at 784-8487 or benefits@scripps.edu, or Counseling and Postdoctoral Services at 784-9740.

TB Screenings, Hepatitis B Immunizations, Serum Draws, and Tetanus Vaccinations
On Monday, March 15, Wednesday, March 17, and Friday, March 19, personnel from Sharp Rees-Stealy Medical Group will be on-site to conduct TB screenings, Hepatitis B immunizations, serum draws, and tetanus immunizations. The clinics will be conducted at the Administrative Offices (3301 North Torrey Pines Court) on the P1 level from 11 AM to 2 PM. No appointments are necessary. TB screening requires a 48 to 72 hour follow-up. Individuals receiving the TB screen on Monday will need to return on Wednesday, and individuals screened on Wednesday will need to return on Friday. Initiation of the TB screening process will not be available on Friday, but Hepatitis B immunization, serum draws, and Tetanus immunizations will be. To learn more about these programs, see the Environmental Health & Safety Occupational Medicine web page, which includes a map and patient information sheets.
Send comments to: mikaono[at]scripps.edu

Ceremony Dedicates Sculpture to William O. Weigle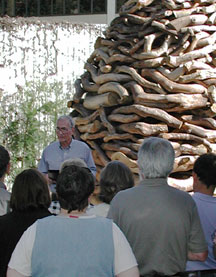 "Oak Cairn," a sculpture by renowned British artist Andrew Goldsworthy, was dedicated last Monday to memorialize the contributions of immunologist William O. Weigle (1927-2001), one of Scripps Research's founding scientists. Here, Professor Charles Cochrane, a friend and colleague of Weigle's and head of the committee that commissioned the piece, speaks at the ceremony. Photo by Kevin Fung.