In Brief
Nicolaou Wins Highest Greek Prize for Science
The Bodossaki Foundation and the International Aristeio Committee recently announced they are awarding the 2004 Aristeio Bodossaki Prize to Professor K.C. Nicolaou of The Scripps Research Institute. Nicolaou, who is chair of the institute's Department of Chemistry and holds the Aline W. and L.S. Skaggs Professorship of Chemical Biology and the Darlene Shiley Chair in Chemistry, will receive the prize in a June ceremony presided over by Greece's president, Kostis Stephanopoulos.
Nicolaou is the first chemist to win this prestigious €150,000 award, which is given every two years to a Greek who has devoted his or her life to science, and who has made a significant and distinctive contribution towards furthering their field of science. According to an announcement in recent issues of the journals Science and Nature, Nicolaou was selected "for his outstanding contributions to the synthesis of the most complex natural products, including many of high biological activity."

Scripps Florida Receives First Contribution
Gale H. Freeman, managing trustee of the Freeman Foundation, has made the first contribution to Scripps Florida, the new biomedical research campus that The Scripps Research Institute is establishing in Palm Beach County. Freeman, who is trained both as an attorney and a nurse, has held positions as a risk manager/systems management specialist for the Department of Veterans Affairs, adjunct faculty at Palm Beach Community College, health care supervisor for Medical Personnel Pool, and attorney and litigation consultant in private practice.

Daffodil Days are Here Again
The American Cancer Society's Daffodil Days fundraiser has begun. Volunteers will be collecting daffodil orders throughout the month of February. The expected delivery date of the flowers is Tuesday, March 16th.
Daffodil Days is one of the Cancer Society's largest fundraisers of the year. Money goes toward cancer research and education in California. ScrippsAssists has consistently been one of the largest participants in the county during Daffodil Days.
There are various bouquets of flowers for sale. The basic "Bouquet" of 10 daffodils (no vase) is $10. The "Sunshine" is 10 daffodils with a basic vase ($18). The larger "Vision" bouquet ($35) comes with 20 daffodils and a cobalt blue artistic vase. The "Friendship" bouquet is the largest and comes prearranged with 40 daffodils and additional greenery ($75). Also, anonymous donations of any amount are welcome towards a "Gift of Hope" bouquet. Complete details and pictures are available with your order reps.
The following volunteers are available to take your daffodil orders. Please contact the closest to you.
Jenny Miller - 3301 Bldg. (Front Desk Recept.) (4-8379)
Julie Hoeft - MB Recept. (4-2225)
Helen Plutner - MB (4-8357)
Jeanette Boerner - CVN (4-7070)
Janet Hightower - 3305 (Biomedical Graphics) (4-8233)
Toni Lestelle - ICND (4-9969)
Jan Tuomaninen - 3877 Bldg. (Human Resources) (4-8825)
Paula King - Library (4-9971)
Sharon Weston - IMM (4-9015)
Sadie Medrano - Stein (4-2051)
Denise Daggett - 3377 (Human Resources) (4-8502)
Valerie Moreau - MEM (4-8807)
Diane Ecker - Carr B (4-9714)
Rachel Braithwaite - MEM (4-8195)
Jennifer Hammond - Science Park (4-2263)
Barbara Bigby - Scripps Clinic (882-8447)
For additional information contact Leslie Madden, x4-2881 or lmadden@scripps.edu.

Lunch & Learn: "Resolution: Goal Setting for 2004"
Personal trainer Susan Czertak will speak on "Resolution: Goal Setting for 2004," on Wednesday, February 11, from noon to 1 PM, as part of the ongoing Lunch & Learn seminar series. The event, which will be held in the W.M. Keck Amphitheater, The Beckman Center for Chemical Sciences, will cover the topics of diet, nutrition, cardiovascular training, strength training, and flexibility. No reservations are necessary. Please bring a personal calculator. For more information, contact Jan Hill, x4-2950.

Benefits Reminder: Keep Beneficiaries Updated
Benefits Administration would like to remind all Scripps Research employees to keep their beneficiaries updated. If you have had a change in status such as marriage, divorce, birth, or death of a family member, you may need to change your beneficiaries. Benefits that require you to have beneficiaries on file include Life Insurance, Cash Balance Plan, Tax Sheltered Annuity Plan (403b), Staff Retirement Plan (401a), and Business Travel Accident Insurance. If you would like to update your beneficiary designations, contact Benefits Administration at x48487 or benefits@scripps.edu.

TB Screenings, Hepatitis B Immunizations, Serum Draws, and Tetanus Immunizations
On Monday, February 9, Wednesday, February 11, and Friday, February 13, personnel from Sharp Rees-Stealy Medical Group will be on-site to conduct TB screenings, Hepatitis B immunizations, serum draws, and tetanus immunizations. The clinics will be conducted at the Administrative Offices (3301 North Torrey Pines Court) on the P1 level from 11 AM to 2 PM. No appointments are necessary. TB screening requires a 48 to 72 hour follow-up. Individuals receiving the TB screen on Monday will need to return on Wednesday, and individuals screened on Wednesday, will need to return on Friday. Initiation of the TB screening process will not be available on Friday, but Hepatitis B immunization, serum draws, and Tetanus immunizations will be. To learn more about these programs, see the Environmental Health & Safety Occupational Medicine web page which includes a map and patient information sheets.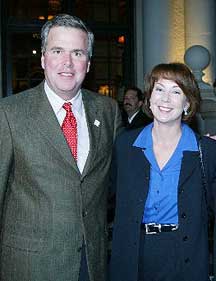 Gale H. Freeman, who has made the first contribution to Scripps Florida, is shown here with Florida Governor Jeb Bush at a recent reception.