In Brief
Career Seminar: "Writing Your First NIH Grant"
An all-day seminar titled "Writing Your First NIH Grant" will be held for students and postdoctoral fellows of The Scripps Research Institute on Friday, December 12. The morning session, from 9 AM to noon, will focus on the administration of grants, covering topics including: an overview of the NIH; administrative assistance and paperwork; library resources; animal and human subjects protocols; the RACO process; deadlines, shipping and renewal; and writing a budget. The afternoon session, from 1 to 4 PM, will focus on writing grants and the review process, including non-scientific sections; organization and presentation of science; the review process; guest presentation from NIH administrator Helen Quill; and panel discussion and tips. This event, which is part of the ongoing career curriculum developed and organized by Associate Professor Luc Teyton and the Counseling and Postdoctoral Services Department, will be held in the Valerie Timken Amphitheater of the Green Hospital.

All I Want for Christmas is a Scripps Research Tee
Just in time for the holidays, a new line of Scripps Research Institute merchandise is available for sale from the Human Resources Department.
"We've introduced five new items," says Human Resources Executive Assistant Jan Tuomainen. "Sales have been going well, especially since up until now most people on campus haven't been aware that we have taken over the job of selling merchandise from the Office of Graduate Studies."
New in the Scripps Research merchandise lineup are two T-shirts and a sweatshirt with a (less boxy) women's cut, a man's hooded sweatshirt, and a unisex fleece pullover. Merchandise includes:
T-shirts in white and black, $10
Women's fitted crew-neck tee in black, white, and navy blue, $11
Women's V-neck tee in white, black, and navy blue, $20
Men's polo in navy blue, $25
Crew-neck sweatshirts in white, gray, and black, $15
Men's hooded pull-over sweatshirt in navy blue, $30
Women's full zip hooded sweatshirt in navy blue, $30
Unisex zip fleece pullover in black, $30
Baseball hats in black or navy blue, $10
Merchandise is available from Tatiana Gay, Human Resources Department, 3377 N. Torrey Pines Court, second floor. Cash or checks only.

Fall Craft Fair Features Handmade Items
The Fall Craft Fair, featuring items made by Scripps Research employees and their families, will be held on Tuseday, December 9 from 11 AM to 2 PM in the galleria of the Immunology Building. Items for sale will include jewelry, home-made soap, handmade quilts, chocolates, and other novelties. For more information call Bonnie Towle x4-2167 or email btowle@scripps.edu.

Lunch & Learn: "Stress!"
Clinical psychologist Marty Cary will speak on "Stress!: Everybody Talks About It, But What Is It?" on Monday, December 8, from noon to 1 PM, as part of the ongoing Lunch & Learn seminar series. The workshop, which will be held in the W.M. Keck Amphitheater of the Beckman Center for Chemical Sciences, will address topics such as understanding stress, techniques for relaxation, and how to de-stress during the holidays. For more information, contact Jan Hill, x4-2950.

Discount Movie Tickets
Just in time for the holidays, Human Resources will begin selling discount movie tickets beginning on Monday, December 1 for the following theaters: Pacific ($5.25), Regal, Edwards, and United Artists ($5.75), and Ultra-Star ($4.25). Tickets may be purchased at the Human Resources Department, 3377 N. Torrey Pines Court, second floor. Please make checks payable to "TSRI." Sorry, no cash.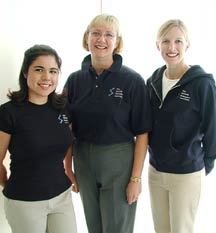 New Scripps Research merchandise, modeled by Human Resources staff above, is now available on the second floor of 3377 N. Torrey Pines Court. Photos by Kevin Fung.