In Brief

Ernest Beutler Awarded E. Donnall Thomas Prize
The American Society of Hematology has awarded Ernest Beutler, The Scripps Research Institute (TSRI) chair of the Molecular and Experimental Medicine Department, the E. Donnall Thomas Lecture and Prize. Created in 1992 and named after Nobel Prize laureate and past American Society President E. Donnall Thomas, it is intended to recognize pioneering research achievements in hematology. According to the society, Beutler is "a highly respected hematologist who has spent more than half a century in study and treatment of patients with blood diseases... Throughout his research career, he has provided numerous invaluable insights to the medical and scientific community."
Beutler's lecture, "Gaucher Disease: Multiple Lessons from a Single Gene Disease," is scheduled for Monday, December 8, at 9:30 AM in Halls F-G in the San Diego Convention Center, as part of the American Society of Hematology 45th Annual Meeting and Exposition.

Ollmann Saphire Wins 2003 Sidhu Award
Assistant Professor Erica Ollmann Saphire, TSRI Class of '01, has been selected for the 2003 Sidhu Award from the Pittsburgh Diffraction Society for "the best contribution to crystallography or diffraction" by an investigator who within the last five years obtained a Ph.D. Previous awardees include crystallographers David Sayre, Keith Hodgson, Thomas Baldwin, Sung-Hou Kim, Ray Stevens, Doug Rees, and Greg Petsko.
Ollmann Saphire will receive the award and give a talk at the 2003 Pittsburgh Diffraction Conference, which will be held from October 30 to November 1.

Florida Press Covers Developments in TSRI Expansion
The Florida press continues to cover progress on plans for TSRI to open a campus in Palm Beach County, Florida. For the latest developments, see Palm Beach Post stories "Lawmakers Approve Scripps Package" and "Giant Biotch Deal Set" and the Sun-Sentinel story "Legislators Approve $310 Million in Scripps Incentives."

SOF Awards Travel Scholarships
The SOF has awarded travel scholarships of $800 for first prize and $200 for second prize for presentations given by students or postdocs at its fall symposium October 17. Winners are:
Structural Biology: William M. Shih of the Joyce lab (first prize), David Shin of the Tainer lab.
Cellular and Molecular Biology: Natalie L. Prigozhina of the Waterman-Storer lab (first prize), Eric Schirmer of the Gerace lab,
Immunology and Microbiology: Lynn Hancock of the Perego lab (first prize), Michael Franti of the Poignard lab.

Benefits Administration to Hold Open Enrollment, Benefits Fair
Benefits Administration will hold Open Enrollment via an online system from Monday, November 3 through Friday, November 14. Open Enrollment is the annual opportunity for participants to make changes to their benefit selections and, if eligible, enroll (or re-enroll) in Health Care and/or Dependent Care Spending Accounts for the following calendar year. Instructions on how to access the online system will be mailed to the homes of all eligible participants by November 3. Kiosks will be available in Human Resources for employees who DO NOT have computer access.
A Benefits Fair on Wednesday, November 5, from 10 AM to 1 PM in the Immunology Galleria will feature representatives from each of the companies providing benefits, as well as Human Resources staff. Refreshments will be served and a raffle will be held. In addition, question and answer sessions with Human Resources staff will be held in six TSRI buildings during the Open Enrollment period. There will also be informational sessions for the Health Care and Dependent Care Spending Accounts and Long Term Care Insurance. A calendar of Open Enrollment events is available online.

New English-as-a-Second-Language Class Begins
A new English-as-a-second-language class will begin Tuesday, November 4. Instructor Cassandra Wadkin's class meets from 6:30 to 8:30 PM every Tuesday evening in the Immunology Building, West Conference Room. The price for three months (12 classes) is $60.
Each intermediate-level English class is divided into speaking and listening, idioms and vocabulary, and reading and writing. If you would like to improve your English communication skills as well as your understanding of your friends and colleagues, movies, television shows, and the news, this class is for you. Movies, games, television shows, grammar books, songs, drawing and novels help teach standard American English. Have fun and learn English at the same time! For more information, please leave a message at x4-2176.

Free Flu Shots
TSRI will offer free flu shots to TSRI employees, research associates, and graduate students on Wednesday, November 12 and Thursday, November 13, from 9 AM to 4 PM, 3377 N.Torrey Pines Court, second floor, Room 205. Please bring a form of identification. A map is available online. For more information, call Benefits Administration, x4-8293.


Another Successful Symposium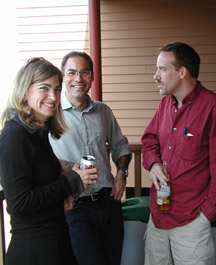 The TSRI Society of Fellows fall symposium last week featured keynote speakers and presentations by TSRI postdocs and students. Here, Research Associates Phyllis Frosst, president of the Society of Fellows, Andrew Sapphire, co-chair of the symposium's Immunology Session, and Eric Schirmer, one of the presenters, relax between sessions. Photo by Jason S. Bardi.