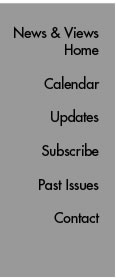 In Brief
Charles Weissmann to Speak April 13 in Faculty Lecture Series
Charles Weissmann, chair of the Department of Infectology, will speak on "Darwinian Evolution of Prions" in the next Faculty Lecture Series, Wednesday, April 13, on the California campus. The lecture will be held at 5 PM in the Timken Amphitheater, Green Hospital. A reception will follow on the first floor of the Arnold and Mabel Beckman building. For further information, see Weissmann's Faculty Lecture Series webpage.


Career Workshop Series: Communicating with Effective Graphs
Creating clearly understood graphs and using them effectively will be explored in the next Career Workshop Series presentation, scheduled for Tuesday, April 12, 1:30 to 3 PM, in the Beckman Center's Keck Amphitheater on the California campus and streamed live, 4:30 to 6 PM, to the Florida campus, room A116.
Sponsored by the Career and Postdoctoral Services office, the Kellogg School, and the Society of Fellows, the workshop will feature speaker and trainer Jean-Luc Doumont. An engineer from the Louvain School of Engineering who also holds a PhD in applied physics from Stanford University, Doumont authored Trees, Maps, and Other Therorems, Effective Communications for Rational Minds.
"Although widely used in research to analyze data and communicate about them, graphical displays are still poorly mastered by researchers, who often use the wrong graphs or use them in the wrong way," Doumont contends.
Specifically, the workshop will cover:
Selecting the right graph for a given data set and research question
Optimizing the graph's construction to reveal the data
Creating a useful caption
Further details are available at the Career and Postdoctoral Services webpage.
Send comments to: mikaono[at]scripps.edu


Daffodils Arrive at Scripps California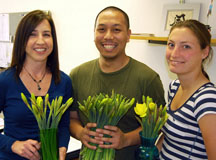 Nearly 1,000 daffodil blooms were delivered to the Scripps Research California campus last week for supporters of this year's Daffodil Days to benefit the American Cancer Society. Sales totaled $2,440, according to Leslie Madden, ScrippsAssists organizer of the event. Left to right, Leslie Madden, senior administrative assistant; Oliver Limbo, research assistant, Russell lab; Lynda Groocock, research associate in Boddy lab. (Photo by Cindy Brauer.)