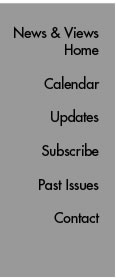 In Brief

Library Tip: Online Tutorials
The Kresge Library now offers online, interactive tutorials for EndNote and Web of Science. Each short tutorial (about two to five minutes each) guides users through the steps necessary to perform specific tasks. The tutorials require Flash Player and are available on the Library Training and Guides page. Additional PDF guides are also available for viewing or printing.
Tutorials for EndNote X1 include:
Importing References from PubMed
Using the Global Edit tool
Selecting Journal Term Lists
Tutorials for Web of Science cover:
Cited Reference Searching
Analyzing Records
Exporting to EndNote
Finding Full Text
Using the Marked List
If you have questions or suggestions for additional tutorials, please contact Angela Murrell, amurrell@scripps.edu or x4-8705.

Scripps Research Benefits: Not Just Medical and Dental
The annual Scripps Research health fair drew a crowd on May 22, when California employees took the opportunity to learn about health and wellness topics, and to chat with representatives from a variety of organizations, from the County of San Diego Parks and Recreation Department to the institute's own Environmental Health & Safety group.
As a follow up to the health fair, Benefits Administration would like to remind employees about Scripps Research health and welfare benefits offered in addition to medical and dental plans. Benefits include:
EMPLOYEE ASSISTANCE PROGRAM. The on-campus Employee Assistance Program is available to all California benefit eligible employees, graduate students, and their families, providing no-cost, confidential, professional counseling services on the La Jolla campus. The Counseling Services office, located at 3366 N Torrey Pines Court, is open from 8 AM to 5 PM, Monday through Friday. To make an appointment contact Holly Wheeler, x4-7297 or hollyw@scripps.edu; Jan Hill, x4-2950 or janhill@scripps.edu; or Daphne Lurie, x4-7915 or dlurie@scripps.edu. Florida employees have access to an employee assistance program through United Behavioral Health. Services including referrals to experienced counselors, legal advice (including free telephonic consultations and discounted legal services), financial counseling for debt management and budget planning, and family mediation. To take advantage of these services, visit www.liveandworkwell.com and enter the access code "10730," or call 1-800-788-5614.
LIFE EVENTS PROGRAM. The Life Events program through United Behavioral Health provides resources and expertise to help employees on both campuses through a variety of transitions. The program can help locate services including local day care centers, housing for aging parents, language tutors, assistance living with chronic illness, and help in quitting smoking. Life Events also offers resources for those experiencing life changes such as marriage, divorce, and/or the birth or adoption of a child. A new option is Convenience Services, which provides help with such tasks as finding a plumber or dog sitter, locating an auto repair shop, finding an all-night pharmacy, or even discovering information on local entertainment such as skydiving lessons or concert tickets. To take advantage of these free services and many more visit www.liveandworkwell.com and enter the access code "10730," or call 1-800-888-2998.
GYM MEMBERSHIP DISCOUNTS. Scripps California employees are eligible for discount gym memberships with no enrollment fee through 24 Hour Fitness; each employee can also enroll one dependent. If you missed 24 Hour Fitness during the California Health Fair, you can still sign up online anytime at http://www.scripps.edu/hr/benefits/fitness.html. Florida employees can enjoy discounts for Gold's Gym and Lady of America. For more information visit http://www.scripps.edu/hr/benefits/FLfitness.html.
WEIGHT LOSS, SMOKING CESSATION PROGRAM REIMBURSEMENT. Scripps Research will reimburse employees on either campus $125 per year for approved Weight Watcher and smoking cessation classes. To take advantage of this benefit, fill out a pre-approval form before you begin your class. Once you have been approved and your class is over, simply fill out a reimbursement form and submit it along with proof of completion of the class. For forms and additional information please visit http://www.scripps.edu/hr/benefits/tuition.html.
If you ever have questions about these services or other benefits, contact Benefits staff at x4-8487 or benefits@scripps.edu. Also visit the Benefits website at http://www.scripps.edu/hr/benefits/.

How to Provide Earthquake Relief
If you are interested in donating to the relief efforts for survivors of the earthquake in China, Scripps Research Benefits and United Behavioral Health are providing a list of charities collecting donations. For the list, which includes a description of each organization, contact information, and ways to support each cause, see http://www.scripps.edu/hr/benefits/forms/china.pdf.

Upcoming Onsite Clinics
On Monday, June 9, Wednesday, June 11, and Friday, June 13, personnel from Sharp Rees-Stealy Medical Group will be on-site to conduct TB screenings, hepatitis B immunizations, serum draws, and tetanus immunizations.
The clinics will be conducted in the 3366 Building, in Room 325, on the third floor, from 11 AM to 2 PM on Monday, Wednesday, and Friday.
No appointments are necessary. TB screening requires a 48 to 72 hour follow-up. Individuals receiving the TB screen on Monday will need to return on Wednesday, and individuals screened on Wednesday, will need to return on Friday. Initiation of the TB screening process will not be available on Friday, but hepatitis B immunization, serum draws, and tetanus immunizations will be. To learn more about these programs, see the Environmental Health & Safety Occupational Medicine web page.
Send comments to: mikaono[at]scripps.edu

Scripps Research Hosts Mexican Delegation


Scripps Research scientists, including Mauel Sanchez-Alavez of the Bartfai lab (right), spoke recently with a group of representatives from the Congress of Mexico about science and science policy.