Scientists Describe How Chemical Turns Progenitor Stem Cells into Bone Cells
An intriguing discovery points the way to potential new treatments for osteoporosis and Parkinsin's disease.
Shark Protein Structure Solved
"This is the first antibody from a non-mammalian species to ever be solved," says Professor Ian Wilson.
Bank of America, San Diego, Supports Teacher Interns
In a brief ceremony, the Bank of America, San Diego, gave Scripps Research a check for $20,000 to support teachers in the 2004 Summer Research Internship Program.
Hot Paper
Chemistry and Related Science Spotlight reports that an article by Scripps Research Associate Professor Hartmuth Kolb and Professor K. Barry Sharpless was the second-most requested article online during the first quarter of 2004.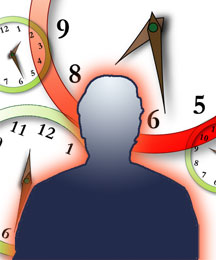 New "Clock Gene" Uncovered
A team led by investigators Steve Kay and John Hogenesch used a genome-wide approach to yield insight into our bodies' daily rhythms.