Vol. 4 Issue 13 / Apr 19, 2004
In Brief
Babior Wins Trevor Slater Award
Scripps Research Professor Bernard Babior has been selected as the 2004 recipient of the Trevor Slater Award, a career prize presented by the International Society for Free Radical Research. Given once every two years, this award recognizes a highly distinguished scientist who has made exceptional contributions to free radical research, a field that is critical for understanding such diseases as rheumatoid arthritis, atherosclerosis, ischemia/reperfusion injuries, cataracts, Parkinson's disease, Alzheimer's disease, and many others. Babior directs research on how neutrophil cells initiate the production of superoxide, hypochlorite, oxygen radicals, singlet oxygen, ozone, and other reactive oxidants through phosphorylation signaling.

O'Malley and Dale Receive Graduate Fellowships
Kellogg School of Science and Technology graduate student Daniel O'Malley has won the National Defense Science and Engineering Fellowship Award for Graduate Study. The U.S. Department of Defense awards these fellowships "to individuals who have demonstrated ability and special aptitude for advanced training in science and engineering."
Kellogg School graduate student Trevor Dale has won a fellowship from the Natural Sciences and Engineering Research Council of Canada, which provides support to "high-caliber scholars who are engaged in master's or doctoral programs."

Endeavor Magazine Wins Crystal Award of Excellence
Scripps Research's Endeavor magazine has won the top honor from the Communicator Awards, an international awards competition that recognizes outstanding work in the field. The Endeavor issues published in 2003 won the Crystal Award of Excellence in the category of nonprofit magazines. The 3,743 entries in the competition were judged by industry professionals looking for "companies and individuals whose talent exceeds a high standard of excellence and whose work serves as a benchmark for the industry."

Save Lives, Donate Blood
Human Resources is sponsoring a blood drive on Friday, April 23, from 10 AM to 3:30 PM in the Human Resources Training Room, second floor, 3377 North Torrey Pines Court. To donate, you must be at least 17 years old, in good health, and weigh at least 110 pounds. Check with Human Resources about your eligibility if you have traveled to areas affected by malaria, mad cow disease, or SARS.
A donation takes about an hour and proceeds as follows:
Registration. You will be asked for your name, address, phone number, and Social Security Number. Bring valid identification, such as a driver's license.
Medical history and mini-physical. A medical interviewer will ask you a series of confidential medical questions to determine your eligibility to donate, then will check your temperature, pulse, blood pressure, and iron level. (Low iron is the most common cause of blood donor deferral.)
Donation. A nurse will draw blood using a sterile, single-use needle.
Rest and refreshments. Enjoy fruit juice, donuts, and assorted snacks.
Blood use. In the 24 hours after your visit, your blood donation will be tested, typed, and separated into various components to be transfused to up to three patients.
All blood donors will be awarded a chance to enter to win one of several pairs of tickets to a Padres home game at Petco Park in May and a limited edition "Are you my type?" T-shirt. Please contact Tatiana, x4-8534, or Jan, x4-8825, or send an email to hrinfo@scripps.edu to schedule an appointment or to request more information. Walk-ins are welcome as openings are available.

Submissions for Scientific Report Due May 7
All submissions for the 2004 Scientific Report are due at noon on Friday, May 7. You may submit your report in one of two ways:
1) By putting your submission on a disk and giving it with a printout to your departmental administrator (as reports have been submitted in the past),
2) By sending a file via email to Jann Coury of the Communications Office at jcoury@scripps.edu and giving a printout to your departmental administrator. Guidelines for submitting reports are available at http://www.scripps.edu/services/comm/sr2004guide.pdf.
In addition, for investigators who hold joint appointments in The Skaggs Institute for Chemical Biology, the Skaggs Institute Report submissions will be due Friday, September 10. Submission guidelines are available online at: http://www.scripps.edu/services/comm/sk2004guide.pdf.

Mother's Day Shopping at the Spring Craft Fair
The Spring Craft Fair—featuring woodwork, orchids, pottery, grapevine wreaths, baked goodies, jewelry, plants, and handcrafted African "Chondos" bags for sale by Scripps Research employees—will be held from 11 AM to 2 PM on Thursday, April 29 in Immunology Galleria and walkway in front of the Immunology Building. ScrippsAssists will hold a raffle to support its projects. For more information, contact Bonnie Towle, btowle@scripps.edu.

Benefits Reminder: 31 Days to Submit Status Changes
Benefits administration reminds you to submit a Benefits Coverage Change Form to Human Resources within 31 days if you are enrolled in or eligible for the Scripps Research medical plan and have a "status change." Status changes that allow you to add coverage include marriage, attainment of domestic partnership status, birth or adoption of a child, legal entry of a dependent into the United States, or loss of other health coverage for yourself or dependent. Status changes that allow you to drop coverage include divorce, termination of domestic partnership status, dependent reaching ineligible age/status, death of a dependent, or a dependent obtaining other coverage.
If coverage is not added or dropped within 31 days of a status change, you will be required to wait until the next Scripps Research Open Enrollment period to make the change. A Benefits Coverage Change Form can be requested by contacting Benefits Administration, x4-8487 or benefits@scripps.edu, or can be downloaded from Benefits Administration Forms web page.

TB Screenings, Hepatitis B Immunizations, Serum Draws, and Tetanus Vaccines
On Monday, April 19, Wednesday, April 21, and Friday, April 23, personnel from Sharp Rees-Stealy Medical Group will be onsite to conduct TB screenings, Hepatitis B immunizations, serum draws, and tetanus vaccinations. The clinics will be conducted at the Administrative Offices (3301 North Torrey Pines Court) on the P1 level from 11 AM to 2 PM. No appointments are necessary. TB screening requires a 48- to 72-hour follow-up. Individuals receiving the TB screen on Monday will need to return on Wednesday, and individuals screened on Wednesday, will need to return on Friday. Initiation of the TB screening process will not be available on Friday, but Hepatitis B immunization, serum draws, and Tetanus immunizations will be. To learn more about these programs, see the Environmental Health & Safety Occupational Medicine web page, which includes a map and patient information sheets.
Send comments to: mikaono[at]scripps.edu
Siemens Tees Off to Support Scripps Florida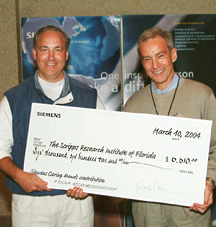 Florida executives from Siemens Corporation teamed up with several of their clients to compete in a friendly round of golf last month, raising money to support The Scripps Research Institute and Scripps Florida. For every stroke recorded during the tournament, Siemens donated one dollar to the institute. At the end of the day, George Nolan (left), Siemens president and CEO, presented Will Ray, Scripps Florida director of external affairs, with a check for $6,610.