A New Twist on the Mad Cow—Scientists Discover Normal Prions May Contribute Directly to Disease
"The protein prion," says investigator Anthony Williamson, "has a Jekyll and Hyde personality.
Renowned Sculptor Andy Goldsworthy Installs "Oak Cairn"
A slide show of the installation of the newest sculpture on The Scripps Research Institute campus.
Interview with Andy Goldsworthy
Comments on the sculpture from the artist himself.
Nicolaou Wins Highest Greek Prize for Science
The Bodossaki Foundation and the International Aristeio Committee recently announced they are awarding the 2004 Aristeio Bodossaki Prize to Professor K.C. Nicolaou.
Scripps Florida Receives First Contribution
Gale H. Freeman, managing trustee of the Freeman Foundation, has made the first contribution to Scripps Florida, the new biomedical research campus being established in Palm Beach County.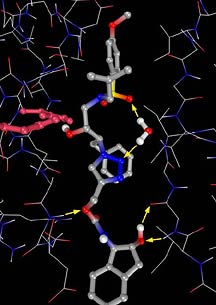 The Resistance: Chemical Innovations and New Approaches
Human immunodeficiency virus (HIV) plays a simple game of overwhelming numbers. Part three of a three-part series.