Fair Game: TSRI Employees Bring Home Top Prizes
By Mika Ono
The Ferris wheel is down, the deep-fried Twinkies are gone, and the record-breaking attendance numbers are tallied. Most people have little left from the San Diego County Fair in Del Mar except a trinket or two and a slightly expanded waistline.
But at least three people at TSRI came away with more, having received top honors for their contest entries.
Pick of the Bunch
Mail carrier Joe Berbrick swept the San Diego County Fair flower competitions, picking up 28 ribbons with 35 dahlia, rose, and gladiola entries.
"The judge seemed to appreciate originality," he notes. "My rare and hard to grow flowers tended to win prizes."
Joe (who asked to be referred to by his first name) grew his blooms in a community garden in Carlsbad, using carefully timed planting, a drip irrigation system, and three different kinds of fertilizers applied according to a strict schedule. "For the contest, you also have to pay attention to staging," notes Joe. "The leaves, the stem, and the position in the vase are all important."
Joe, who grows vegetables year round in addition to flowers, draws on a lifetime of experience with plants. "Back East, in New Jersey, I was a gardener," he says. "I read up on what I am growing. Every year, I learn something new."
Next year, he plans to branch out into cacti and pompons, small ball-like flowers in the dahlia family.
Grand Champion Goat
TSRI Facility Lead Jodi Everitt and her son, David, won a lofty title—a Grand Champion designation—with their goat, appropriately named "Little Miss Perfect," an 88 percent boer goat.
"This was the first year we brought goats," says Everitt. "We did our research, kept her in good condition by giving her special feed and all the recommended worming and shots, and tattooed her ear according to pedigree regulations. Before the show, we gave her some special attention--a bath and clipping around her feet."
Everitt, who lives on a farm in Poway, has been competing in county fairs for almost a decade. Unfortunately, this year Everitt couldn't enter her prize-winning show chickens (see June 4, 2001 News&Views), as poultry competitions were cancelled due to an outbreak of Newcastle disease. However, in addition to Little Miss Perfect, Everitt and son also showed three other goats, two mules, and a steer. They won second with their market goat; the mules did not place.
"Even if you don't win, it's fun to participate," notes Everitt.
Dream Dress
Marilyn Glover of Payroll placed first with a handmade doll's dress in another of the fair's competitions.
"I modeled the dress on an outfit worn by Jackie Kennedy when she was First Lady," says Glover, "and I made the doll look just like Jackie."
To put together the dress, Glover used crochet and beading techniques. She special ordered the doll prototype, similar to Barbie but with more realistic proportions, and cut its hair to style. As a finishing touch, she fashioned long evening gloves using white paint and tissue paper.
This winning doll is her 14th such creation. "I give most of them to my grandchildren," says Glover, who has 10 granddaughters and three grandsons.
For all those who entered competitions and weren't lucky enough to win, there's always next year. The 2004 San Diego County Fair is tentatively scheduled for June 11 to July 4.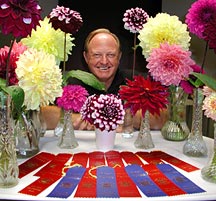 Mail carrier Joe Berbrick won 28 ribbons in this year's San Diego County Fair. Photo by Kevin Fung.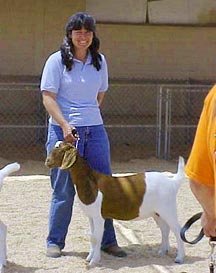 The boer goat Little Miss Perfect, owned by Facility Lead Jodi Everitt (above) and her son, won a Grand Champion title.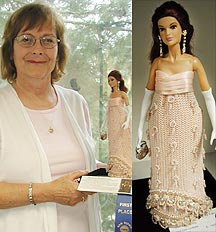 A handmade Jackie Kennedy-style doll's dress created by Marilyn Glover of Payroll earned a first-place ribbon in the fair. Photos by Kevin Fung.