Scientist, Industrialist, and Scripps Philanthropist Cecil H. Green Dies at 102
Cecil H. Green, a co-founder of Texas Instruments, an international leader in industry and education, and one of the nation's most visionary philanthropists who contributed to Scripps Research Foundation—which later became The Scripps Research Institute (TSRI)—passed away on April 12, 2003 at Scripps Green Hospital in La Jolla at the age of 102. He is remembered as a man of adventurous and intelligent compassion, keen intellect, and gentle good humor who has left an indelible mark on the nation's scientific, biomedical, and educational institutions.
Born in Manchester, England, August 6, 1900, Green was educated in the public schools of Vancouver, BC, attended the University of British Columbia, and in 1924 earned his Master of Science degree in electrical engineering from the Massachusetts Institute of Technology (MIT). He married Ida Mabelle Flansburgh in 1926, and the two began the extraordinary explorations that took them from the small towns of Oklahoma to Central America, South America, and Asia. The Greens had no children.
Cecil Green worked on the steam turbine generator at General Electric, on gaseous tube devices at Raytheon and in production engineering at the Federal Telegraph Co. (later IT&T). He joined the oil exploration company Geophysical Service Inc. (GSI) in Dallas, Texas, and he and Ida spent the next 15 years in hard fieldwork, exploring sub-surface structures in and around Texas for those that might contain oil and gas, work known as "doodlebugging." With three partners, they purchased GSI in 1941, which eventually became Texas Instruments, a world leader in microelectronics, including the first commercial silicon transistor and the first integrated circuit.
When the Greens discovered La Jolla, the area was just developing as a center of science and medicine. The University of California had opened a campus on Torrey Pines Mesa, Jonas Salk had selected a nearby site for his new scientific institute, and Edmund Keeney was leading Scripps Clinic and Research Foundation (SCRF), whose research arm later became TSRI, toward distinction in biomedical research.
Fascinated by the applications of industrial knowledge to the field of medicine, particularly radiology and diagnostic imagery, Green had long conversations with Scripps Clinic's leading radiologists and made several gifts to expand the clinic's capabilities in that area. In 1970, the Greens established the Cecil and Ida Green Investigatorship in The Research Institute of Scripps Clinic, and shortly afterward the couple made gifts that helped successfully construct a hospital on the campus. In recognition, the hospital was named the Cecil H. and Ida M. Green Hospital, known today as Scripps Green Hospital. Upon Ida Green's death from cancer in 1986, SCRF received its largest bequest up to that time and, in honor of the bequest, established the Ida M. Green Cancer Center, now known as the Ida M. and Cecil H. Green Cancer Center at Scripps Clinic.
The Greens imaginatively shared their wealth to fund academic buildings, health care centers, libraries and other civic buildings, professorships, fellowships, scholarships and arts and cultural organizations throughout the United States, England, Canada and Australia.
Mr. and Mrs. Green were universally honored in their lifetimes. In 1978, the National Academy of Sciences honored them with an international tribute attended by 30 presidents and chancellors of various institutions. Some 25 colleges and universities, hospitals, museums and schools have benefited from gifts the Greens made for trusteeships, program development, endowments, facilities, scientific equipment and programs to advance basic research and education on a global scale—including 15 major university or hospital facilities and 20 fully-endowed professorships. The Greens also funded an endowed Master Teacher chair held by a first grade teacher, fellowships to encourage women in science and engineering, life-saving medical equipment, a geophysical and oceanographic research vessel, arts objects, and a global system of earthquake detectors.
Cecil Green held more than a dozen honorary degrees, including a Doctor of Engineering from the Colorado School of Mines and a Doctor of Science from Oxford University. On May 22, 1991, her Majesty Queen Elizabeth II appointed him an honorary Knight of the Most Excellent Order of the British Empire, and in 1994 he was named "Philanthropist of the Year" by the National Association of Fund Raising Executives for the exceptional support he and Ida had given the nation's leading institutions, among them MIT, Stanford, and the University of Texas Southwestern Medical Center.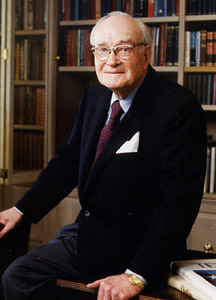 Cecil H. Green co-founded Texas Instruments.