De Shon Hall

Title: Research Technician, Department of Neuropharmacology, Fox lab.
Duties: Working with other members of the lab to explore neuroAIDS and diabetes on a cellular level.
Started at TSRI: 1998.
Background: B.S. in biology from the University of California, San Diego (UCSD). Fourteen years work experience in labs at UCSD; one year at start-up company Dynavax.
Thoughts on TSRI: "There are good people here and a nice atmosphere."
Favorite Part of the Job: The science! "Especially some of the molecular biology."
Extracurriculars: A life-long involvement in music. Hall is currently minister of music at a Catholic church, a position that involves coordinating the music program, directing the choir, and performing on the violin, piano, and organ.
Also, quilting, with the assistance of a "codesigner," her seven-year-old son. Hall is drawn to bright colors, whimsical designs, and unusual combinations of materials. Hall keeps sewing supplies in her car, so she can quilt anywhere.
"I'm always busy."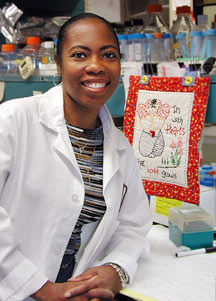 Research Technician De Shon Hall enjoys the atmosphere at TSRI. Photo by Kevin Fung.