Actively Engaged:
Employee Volunteer Group Honors Its Outstanding Members

How far that little candle throws his beams! So shines a good deed in a weary world.

———Shakespeare, The Merchant of Venice
From self-proclaimed "ditch-diggers" maintaining trails at Torrey Pines State Reserve to those serving soup at St. Vincent de Paul Village, 17 committed volunteers were honored last week for their participation over the past year in events organized through ScrippsAssists, the volunteer club for employees of The Scripps Research Institute (TSRI), Scripps Hospitals, and Scripps Clinic.
A reception was held on October 16 in the TSRI Faculty Club to honor the volunteers and to commemorate the ninth anniversary of ScrippsAssists, founded in 1993 by Jan Hill, director of Employee and Graduate Student Counseling at TSRI, and Betsy Penberth, manager, Volunteer Services, Scripps Green Hospital.
"It grew out of a Lunch and Learn program which featured a representative from the United Way speaking on volunteer opportunities," Hill explains, adding that she is amazed at how a small core of dedicated people can translate into the participation of over 150 volunteers in a given year. "It's a good way to meet people outside the lab," she notes.
In general, ScrippsAssists projects support recognized charitable, nonprofit organizations. Examples of past and current projects include trail maintenance at Torrey Pines State Reserve; serving meals to the homeless at St. Vincent de Paul Village; American Cancer Society's Daffodil Days; Habitat for Humanity's low income housing construction; Juvenile Diabetes Foundation's Walk for the Cure; Adopt-a-Block graffiti clean-up; Big Brothers & Big Sisters of San Diego; The Leukemia & Lymphoma Society's Light The Night Walk; Rolling Readers; Special Olympics swim meets; Head Start; and Scripps-Mercy Home Health Care holiday baskets.
"We can also direct [TSRI employees] to other volunteer services in San Diego, such as clothing donation," says Janet Hightower, a member of the ScrippsAssists steering committee.
Scripps employees can become members of ScrippsAssists simply by signing up to volunteer for a project. There are no dues, no meeting requirements, and no minimum number of hours. The only obligation is to honor any volunteer commitment made through the club. Leadership opportunities are also available as a project coordinator or steering committee member.
"We have many active members from TSRI," reports Steering Committee Chair Helen Plutner. "Even people who are here temporarily get involved as project leaders," she notes, adding that additional program leaders are always welcome.
The work of ScrippsAssists, and that of thousands of groups like it across the United States, continues at a time when the country's leaders have been emphasizing the need for public service. According to Leslie Lenkowsky, head of the Corporation for National and Community Service (CNCS), volunteer programs "help to perpetuate our country's greatest source of strength, both in war and peace: a citizenry that is actively engaged in public life."
The reception to honor outstanding ScrippsAssists volunteers of the past year was hosted by Plutner and Hightower. Service awards were presented by Judith Muñoz, TSRI's vice president of Human Resources, who noted that the existence of ScrippsAssists was one of the things that drew her to TSRI.
The ScrippsAssists Outstanding Volunteers of 2002, distinguished by their participation in at least four volunteer events (and in most cases many more than four), are:
Mike Bobardt, research assistant, Department of Immunology;


Jan Bowden, Scripps Clinic;


Elizabeth Chastain, administrative assistant, Department of Immunology;


Kelly Dryden, research associate, Department of Cell Biology;


Stacie Gooch, research assistant, Department of Immunology (current St.Vincent de Paul project coordinator);


Janet Hightower, computer graphic artist, Biomedical Graphics (Daffodil Days Project Coordinator);


Linda Soo Hoo, former research technician, Department of Molecular and Experimental Medicine (former St. Vincent de Paul Project Coordinator);


Ellen Klahn, administrative assistant, Department of Immunology;


Pam Maher, associate professor, Department of Cell Biology;


Tyzoonn Nomanbhoy, senior research scientist, Activx Biosciences (former research associate, Department of Molecular Biology);


Gabriela Perez-Alvarado, research associate, Department of Molecular Biology (Leukemia/Lymphoma Walk project coordinator);


Helen Plutner, research assistant, Department of Cell Biology (Senior Basket Project coordinator), and her husband, Larry Peranich;


Jayashree Pyati, research scientist, Johnson & Johnson;


Toni Tishon, scientific associate, Department of Neuropharmacology (Torrey Pines Trail Maintenance project coordinator);


Rhonda Torres, research associate, Department of Molecular Biology;


He Zhou, research associate, Department of Immunology.
In addition, Hightower reported that over 140 others volunteered through ScrippsAssists three or fewer times in the last year. Also acknowledged at the reception were the individual supporting efforts of Shane Blade (Receiving), Tom Gilmartin (Purchasing), Ben Morris (Facilities), Judith Muñoz (Human Resources), Mika Ono (Communications), Nancy Schoenmackers (Faculty Club), Bonne Towle (Immunology), and Kat Occhipinti (Immunology).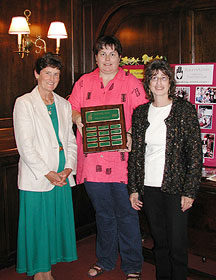 ScrippsAssists co-founder Jan Hill, committee member Janet Hightower, and committee chair Helen Plutner (left to right) promote the group's mission: "To be leaders in creating and sustaining focused corporate volunteer activities that build a stronger, more productive and caring community, and enhance employee's personal and professional growth." Photo by Kevin Fung.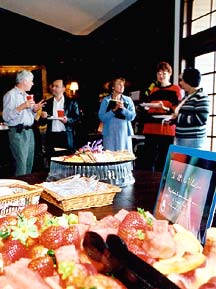 Celebrating service: ScrippsAssists volunteers and supporters enjoy the "fruits" of their labor. Photo by Jason S. Bardi.
---

Link:



---