Lerner receives University of California Presidential Medal
Richard A. Lerner, president of TSRI, has received the University of California Presidential Medal, the highest award the university can bestow.
Santoro Wins Burroughs Wellcome Career Award
TSRI Research Associate Stephen W. Santoro has won the Burroughs Wellcome Career Award, which provides funding for a period that includes advanced postdoctoral training and the early years as a faculty member.
Eric Johnson Wins Brodie Award in Drug Metabolism
Professoe Eric F. Johnson has won the 2002 Bernard B. Brodie Award in Drug Metabolism for outstanding original research contributions in drug metabolism and disposition.
San Diego Foundation Awards Blasker Grant to TSRI Summer Research Internship Program
"The award is a testament to all those who have participated [in TSRI's Science Outreach Program] in the past," says Communications Coordinator Jennifer O'Sullivan.
News&Views Brings Home Gold Quill
News&Views, TSRI's electronic publication, was honored with a Gold Quill Award for excellence in employee communications by the International Association of Business Communicators (IABC) on June 10.
Snapshot: Stacy Evans
Meet Stacy Evans, administrative assistant in the Office of Graduate Studies.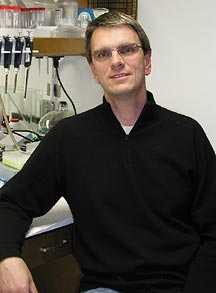 Mysteries of A Therapy Unveiled

In one of the latest issues of the journal Science, a team led by TSRI Associate Professor Wolfram Ruf has described the signaling pathway of activated protein C, approved by the U.S. Food and Drug Administration as a therapy for patients with severe sepsis.