Job Fair Highlights Work
at TSRI
By Mika Ono

The Scripps Research Institute's (TSRI) first job fair on May 10 offered prospective employees a close-up look at the world of opportunities within the institute.
While personnel from Human Resources have attended job fairs at other locations in the past, this is the first time TSRI has hosted such an event.
"We want to show prospective employees that TSRI can be a great place to work," says Employment Representative Kelly Kehoe, who organized the event, held in the Beckman Building, with the help and inspiration of her co-workers in Human Resources. "We also want to provide information on our needs and hiring process."
Throughout the day, job fair participants chatted with current TSRI employees from a variety of labs and from support groups such as Environmental Health & Safety, Animal Resources, and Facilities. They participated in tours of TSRI's cutting-edge laboratories. And they visited a table highlighting TSRI's employee benefits.
"In addition to our strong health plans, prospective employees are most excited about TSRI's fitness subsidy (at 24-Hour Fitness), tuition reimbursement, transit benefit, onsite seated massage, yoga classes, and weight watchers and toastmaster's groups," notes Human Resources Manager Ellen Anderson.
The institute's scenic La Jolla campus, close to the ocean and Torrey Pines State Park, is also a draw, as well as its location in the San Diego metropolitan region. The job fair coincided with the announcement that San Deigo has been ranked number one in the nation by the new Forbes/Milken List of Best Places for Business and Careers.
Some job fair participants attended a seminar on resume preparation and interviewing techniques, which outlined tools and skills that applicants could use in their job search both at TSRI and other institutions.
In the seminar, Human Resource's Khanh Nguyen and Linda Kauffman gave this advice on resumes:
Don't include graphics or color, as they are difficult to scan into the computer;


Do list job skills in addition to job titles and places of employment;


Do list specific dates of employment, as this is helpful to hiring managers;


Don't worry if your resume is more than one page long;


Do write a cover letter that specifies the position you are interested in and demonstrates your writing skills.
Their advice on interviewing included:
Do research the organization before arriving at an interview (for example, know that TSRI is a basic biomedical research institute, not one that specializes in oceanography);


Don't arrive late if at all possible;


Do dress neatly;


Do come prepared to answer questions on your professional experience;


Do come prepared to ask questions—about the job, the corporate culture, the benefits, and the next step in the hiring process;


Do bring an extra copy of your resume and a list of references;


Do follow up with a thank you note;


Don't hesitate to follow up with a phone call or e-mail if you haven't heard back from the employment representative in a reasonable amount of time.
Also at the job fair, representatives from Human Resources shared a list of job postings, collected resumes, and offered information on the hiring process.
For more information and a list of current employment opportunities, see the TSRI Employment Opportunities web page. To submit a resume electronically, e-mail it to resumes@scripps.edu. To submit a resume by mail, send it to: Human Resources, The Scripps Research Institute, 10550 North Torrey Pines Road, TPC 11, La Jolla, CA 92037.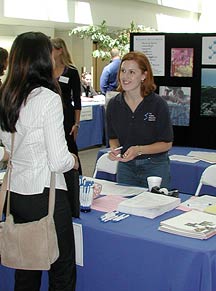 Employment Assistant Melanie Brittle answers questions from perspective TSRI employees. Photo by Kevin Fung.