Celebrating a Lifetime of Inquiry
What could be a more fitting way to celebrate a birthday-of-a-lifetime than to celebrate a person's life work?
Last weekend, The Scripps Research Institute (TSRI) and The Neurosciences Institute hosted such an event in honor of the 70th birthday of Peter Vogt, who is professor in TSRI's Department of Molecular and Experimental Medicine, where he heads the Division of Oncovirology.
Vogt (B.S., University of Würzburg; Ph.D., University of Tübingen) was a postdoctoral fellow in the laboratory of Harold Rubin at the University of California, Berkeley when he began research on the cancer-causing virus, Rous sarcoma virus (RSV). Vogt, the recipient of numerous honors and awards, has served on the faculty of University of Colorado Medical School and University of Southern California School of Medicine. With his colleagues, Vogt showed that transformation-deficient RSV strains lost specific portions of viral genetic material, a finding that led to their identification of the viral src oncogene.
The symposium, entitled "Viruses, Oncogenes, and Cancer," was organized by the Vogt Symposium Organizing Committee and Digital Gene Technologies, Inc., and was co-sponsored by several biotechnology companies and organizations, including the Blood Cells Foundation, Amgen, Gen-Probe, Novartis, Takeda, MediciNova, Aviva Antibody Corporation, Stratagene, Kyowa Kakko, and Chugai Pharmaceuticals.
Prominent scientists Harold Varmus, David Baltimore, and J. Michael Bishop were among the speakers, who included leading researchers from around the world and Vogt's close friends and collaborators. The four sessions of the symposium were: "Viruses," "Transcription Factors and Oncogenes," "Signaling and Oncogenes," and "Cancer and Target Genes."

Introduction by Duke University Professor Bill Joklik | Real Video | Quicktime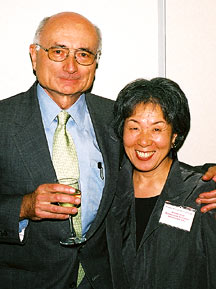 Peter and Hiroko Vogt enjoy a moment together at the symposium's opening reception. Photo by Jason S. Bardi.
---
Related Links:
---