Sharpless Addresses National Science Teachers Convention
Rahul Prabhakar is a ninth grader on spring break from Baldwin Senior High School in Long Island. He accompanied his mother, a biology instructor at Nassau Community College, to the National Science Teachers Association (NSTA) annual conference at the San Diego Convention Center. By the end of opening day March 27, Rahul had already filled one page of his notebook with autographs, most notably that of general session keynote speaker and Nobel laureate K. Barry Sharpless.
"[Dr. Sharpless] was preparing for his lecture, but I wanted to at least meet him because I'm very interested in organic chemistry," Prabhakar explains.
Sharpless, W. M. Keck Professor of Chemistry at The Scripps Research Institute (TSRI), member of The Skaggs Institute for Chemical Biology, and winner of the 2001 Nobel Prize in Chemistry, is much sought after as a speaker these days. And while clearly he can't accept each invitation that comes his way, his appearance at the NSTA convention speaks to his strong feelings on education.
"You're some of the most important people in science," Sharpless told the crowd of over 1,000 science educators. "And I'm proud to be asked to speak to you."
And speak he did. Dubbing his talk "Sensual Chemistry," Sharpless captivated the audience with his enthusiasm for catalysis, chirality, and click chemistry. "Many organic molecules, especially those produced by living systems, exist in two forms that are mirror images of each other," Sharpless wrote in the program abstract. "This subtle difference—'handedness,' or absolute configuration—often results in very different properties of the molecules, including smell and taste, two of the five primal senses that sparked my fascination with organic chemistry."
Peppered throughout Sharpless's address were tales and photographs of his childhood—his first passions were fishing, photography, and the illustrations in his father's medical journals—of his family, and of his early scientific career. The personal narrative of fishing expeditions off the Jersey shore with his uncle provided a particularly vivid glimpse of a life spent on myriad paths of discovery. Another highlight was a photograph of Sharpless in action in a high school chemistry class. "In those days things were done a bit more freestyle than today," he joked.
Sharpless left teachers with many things to think about, among them the idea that "thinking weird is not a bad thing to do." He also gave them something he was sure they were familiar with—homework—in the form of a reading list that included James Adams' Conceptual Block Busting, Kevin Kelly's Out of Control, James Gleick's Genius, and the "Science Times" section of The New York Times, appearing every Tuesday.
Judging from the response of several teachers interviewed after the general session, Sharpless was a hit.
"I thought [K. Barry Sharpless] was phenomenal," said Diane Warren, a teacher at Wichita Collegiate Upper School in Wichita, Kansas. "I'm a chemistry teacher—an organic chemist—so I was really interested in what he had to say about chirality and click chemistry. I could have kept listening [for a long time]..."
Integrative science teacher James Dickson, on break from teaching at Millikan High School in Long Beach, also thoroughly enjoyed the session.
"The whole idea that there are big applications of chemistry, and that really they're all down to earth is great," Dickson commented.
Founded in 1944 and headquartered in Arlington, Virginia, the NSTA is committed to promoting excellence and innovation in science teaching and learning. NSTA's current membership of more than 53,000 includes science teachers, science supervisors, administrators, scientists, business and industry representatives, and others involved in and committed to science education. In the words of NSTA President Harold Pratt, the conference, which celebrates its 50th anniversary this year, "is the largest science education conversation held on an annual basis." Hearing the voice of K. Barry Sharpless in that conversation was certainly a highlight for those in attendance.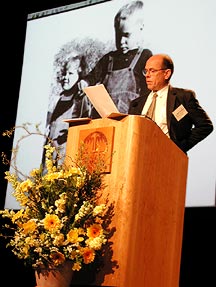 TSRI's K. Barry Sharpless shares pictures and stories from his childhood during the National Science Teachers Association annual conference. One of his first great passions, fishing, was quickly replaced by chemistry when Sharpless learned about catalysis in high school. Photo by Jason S. Bardi.