TSRI Shipping/Receiving and Mail Room Staff
Deliver Service
By Mika Ono
When important new cell lines, rare chemicals, or laboratory equipment arrive at The Scripps Research Institute, they are delivered within hours to the individual who needs them.
"Because of the nature of what the institute does, packages need to be delivered promptly," says Supervisor Dave Kastner, who oversees Shipping and Receiving, Central Stores, and the Mail Room—all sub-groups of the Procurement Department. "Our goal is to move material and supplies quickly and smoothly through the institute."
Some 1,000 packages a day come into TSRI's receiving dock, located in the Green Hospital Building. Once the boxes are removed from the delivery trucks, Shipping and Receiving staff sort the packages according to the location of the recipients. Boxes are then loaded onto small trucks or gas-powered carts and transported across campus. Staff then write up the necessary forms, deliver the boxes, and obtain a signature upon delivery. Typically, staff make two delivery runs each day.
One challenge for those sorting the boxes in the receiving zone is the arrival of packages with missing or incomplete labels.
"Receiving personnel spend a lot of time trouble-shooting," notes Kastner. "Several times a day, we come across a box without a purchase order number or other critical information."
Staff have become adept at tracking down the proper recipient using information on purchase orders, the campus directory, human resources data, and e-mail listings. As a last resort, a staff member may send out a campus-wide e-mail, asking for help in locating an individual.
"E-mail works very well," says Kastner. "The only time we don't get a response is when the recipient is at another institution—say, The Scripps Institute for Oceanography or another part of UCSD [The University of California at San Diego]. Experience helps, too. We can tell right away that if a package arrives for someone at Hubbs Hall, it is meant to go to UCSD."
Shipping and Receiving staff—who include Eduardo Baruelo, Keith Dangerfied, Walter Dula, Gary Fousel, Fidel Hurtado, Guy Gomez, Steven Johnson, and Jose Ramirez—rotate monthly through seven stations. Lead Shipping and Receiving Clerk Shane Blade helps Kastner coordinate daily activities of the group.
Six of the work stations involve making deliveries to a designated area of campus. One of the lighter delivery areas is combined with work in Central Stores, a central distribution area for supplies widely used across campus, such as order forms and ethanol.
The final station is shipping. Here, Shipping and Receiving personnel handle outgoing shipments, drawing on detailed knowledge of government regulations and international requirements to prepare chemical materials, biological samples, and other goods to be shipped to locations around the world according to the appropriate regulations.
"Some stations are tougher than others," notes Kastner. "Rotating ensures that no one is stuck shouldering a heavy load—like making deliveries to the Beckman Building. Rotating keeps people fresh."
The Mail Room operates separately from Shipping and Receiving. Three employees—Mail Room Lead Joe Pangelinan, Rashid Ali, and Anthony Boyd—sort 1,500 to 3,000 incoming letters a day as well as processing outgoing mail. Joe Berbrick and Gary Santo-Pietro assist the Mail Room staff in delivery of the mail throughout the institution. Because of TSRI's history with Scripps Clinic and some confusion among the general public between the two institutions, incoming mail for the two institutions is picked up from the post office together, and sorted first by the TSRI Mail Room.
"Our guys are sharp," notes Kastner. "Our Mail Room does a bang-up job."
Both Shipping and Receiving and Mail Room staff have reviewed security issues in light of recent world and national events. While taking every reasonable safety precaution, Kastner remains matter-of-fact. "We aim to be vigilant, but to maintain our level of service to the institute," he says. "We've been through safety alerts before, for instance, during the Unibomber scare."
Shipping and Receiving and Mail Room staff continue to take pride in their role serving the institute, its researchers, and support departments. "Our staff members give their jobs their best effort," says Kastner. "We've got a great team."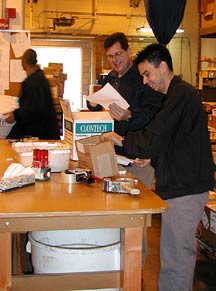 Gary Fousel (front left), Guy Gomez (front right), and Jose Ramirez (background) are three of TSRI's Shipping/Receiving staff, who rotate monthly through seven stations. Photo by Kevin Fung.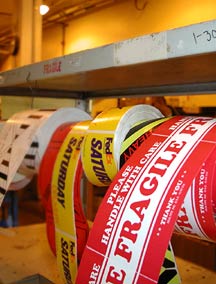 Proper labeling of shipments is essential for compliance with U.S. government regulations and international requirements. Photo by Kevin Fung.