Jeff Jones
Title: Counselor
Duties: Providing free, confidential counseling to The Scripps Research Institute (TSRI) employees, graduate students, and their families.
Started at TSRI: December 2001
Hours: Thursdays, 8 AM to noon.
Background: Ph.D. in clinical psychology from the California School of Professional Psychology. In addition to running a private practice, Jones's work experience includes counseling students, postdocs, and employees at the University of California at San Diego Psychological and Counseling Services and the University of San Diego Counseling Center. He has worked with individuals, couples, and families on a variety of issues—from relationships to careers. "I've particularly enjoyed working with high achievers."
Goals: "I want to help people solve problems, reach their potential, and be more productive. Sometimes my role is to listen, to act as a sounding board. Other times, it's to provide guidance in making adjustments or acquiring new life skills."
Favorite Part of his Profession: "It's rewarding to see people triumph."
Extracurriculars: In addition to being a husband of 21 years and father to children ages 9, 11, and 14, Jones coaches soccer, plays beach volleyball, and participates in touch rugby.
Greatest Accomplishment: "Starting a group, The Dad's Club, in local elementary schools to facilitate fathers' involvement in their children's education."
Contact information: Jones can be reached at x4-2950.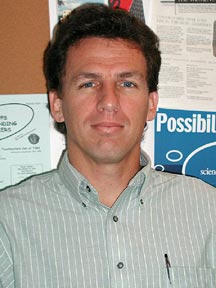 "It's rewarding to see people triumph," says TSRI Counselor Jeff Jones. Photo by Mika Ono.