Senior Gift Basket Project Nears Completion
This year in particular, working together to help others is not merely seasonal. While the ScrippsAssists' Senior Basket Project takes place during the holidays, it also serves as the latest example of how good people can come together to make a difference.
ScrippsAssists, which draws volunteers from The Scripps Research Institute (TSRI), Scripps Green Hospital, and Scripps Clinic, has been coordinating the Gift Basket Project with The Senior Community Center downtown for the past five years. Employees from the three Scripps institutions are encouraged to donate items that will be assembled into gift baskets given to senior citizens in San Diego.
Now, when I think "gift baskets," I normally think of fancy presentations of somewhat frivolous items—gourmet chocolate shavings, jars of designer olives, or fruit-scented shampoos beautifully arranged in cellophane-wrapped wicker. The great thing about the baskets put together by the ScrippsAssists volunteers is they're filled with items people can really use!
Among the requested items are: drinks such as Ensure and Boost, scarves, hats, gloves, socks, slippers, handkerchiefs, hand towels, Kleenex, brushes, combs, nail clippers, denture cleaner, mouthwash, first aid supplies, magnifying glasses, shampoo and conditioner, Reader's Digest issues, pens, pencils, note pads, stationery, calendars, shaving cream, razors, and combs. Items in especially high demand include: crossword puzzles, playing cards, small puzzles, holiday ornaments and decorations, holiday gift items (mugs, towels, toys), cellophane wrap, flashlights, and batteries.
TSRI employees can drop off these items until noon on Monday, December 3 in the following buildings: Immunology, Molecular Biology, Human Resources, ICND, MEM (Room 265), CVN, BCC (near the coffee cart), and 3377. Unless otherwise specified, drop-off is at the building's reception area.
The baskets themselves, along with toothpaste, toothbrushes, soaps, and deodorants, are provided by ScrippsAssists. However, these items cost over $600, so if anyone would like to donate money to defray this cost, they should contact Helen Plutner (plutnerh@scripps.edu, x4-8257).
Janet Hightower, ScrippsAssists volunteer and computer and graphic artist in the BioMedical Graphics Department, estimates they assemble about 120 baskets annually.
"Each year I am astounded at the generosity and creativity of my coworkers," Janet says. "The task of assembling all the baskets seems insurmountable, but we all work together and before you know it we have 120 gorgeous baskets ready to go. Towards the end of the assembly party we generally get very giddy. We've been known to start wrapping and decorating ourselves."
For more information on the Senior Basket Project and ScrippsAssists, see the ScrippsAssists web page.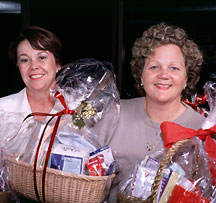 Betsy Penberth (left) and Allyson Ledsam hold holiday baskets assembled by ScrippsAssists for San Diego seniors. Photo by Alan McPhee.