TSRI Internship Program Offers "Way Cool" Summer Jobs
Do you remember your first summer job? What about your first full-time job? Put those two together and you may be faced with a previously repressed memory. Or, if you are among a lucky few—and many of The Scripps Research Institute's (TSRI) young summer interns may later fall into this category—your first work experiences have a strong connection to what you're doing today.
In the Summer Research Internship Program at TSRI, students, teachers, and undergraduates participate in an eight-week program emphasizing the scientific process, bench experience, data analysis, experimental design, and interaction with laboratory personnel. For the high school students, the experience follows the Spring Semester Enrichment Tutorials at TSRI.
Interns are placed after interviewing with several labs—in itself a valuable experience. For many, like Mt. Miguel High School student Samantha Anderson, this is the first time they've ever been on a job interview.
"I wasn't nervous, though," Samantha tells me, referring to her interview with Associate Professor Cindy Ehlers and members of her Neuropharmacology lab. "They described the work they do and asked me about my family and what I did at school. It was cool."
After completing interviews, the TSRI summer intern class of 2001, consisting of 22 high school students, four teachers, and six undergraduates, began working at TSRI on Monday, June 25 and will continue five days a week, 8:30 AM to 5 PM, for eight weeks. While the schedule is an adjustment for the high schoolers, and certainly stands in stark contrast to friends who are hitting the beach on a daily basis, these are teenagers with curiosity and drive.
Samantha is now working in the Ehlers lab along with fellow intern Loicia Ware under the supervision of Antonio Sweeney, an alumnus of the TSRI High School Summer Internship Program and a fourth-year microbiology student at the University of California, San Diego (UCSD). Tony interned during the summer of 1997 and later took first place in the category of medicine and health at the Greater San Diego Science and Engineering Fair with the project he completed in the Ehlers lab. He has been working there ever since as a research assistant and summer intern supervisor.
"I still feel connected because every summer I meet a new student. My first student is now at the University of California, Los Angeles (UCLA) and my second and third are at UCSD," he tells me.
Tony was recommended for the internship program four years ago by Larry Nordell, who teaches basic chemistry and advanced topics in biology and chemistry at Mt. Miguel High School. Mr. Nordell, as the interns call him, and others like him are a vital part of the program's continued success.
"If it wasn't for Mr. Nordell I wouldn't be here," says Lali Villalobos, who is interning in the lab of Associate Professor Jeffrey Harper in the Department of Cell Biology. Nordell encouraged Lali and other students to take a biotechnology class offered at Mt. Miguel last year, where they gained experience working with pipettes and making media, and also learned about the TSRI program.
Now Lali is tackling all she can in plant biology with Dr. Harper, along with her mentor, Research Technician Shawn Romanowsky.
"We're studying a plant called the Arabidopsis and looking for calcium pump knockouts throughout the DNA," Lali tells me while thumbing through a notebook filled with notes, sketches and photocopied sections of journal papers she has looked up. Lali explains that the "knockouts" are pumps that expire, allowing for the isolation of functioning pumps to determine which are necessary for the plant's survival. "What I've done," she states with pride, "is found some. I found two out of three knockouts."
In addition to their daily work, summer interns also come together for specially designed seminars, lunchtime gatherings, and a field trip to another scientific institution or biotech company. Students are expected to keep a weekly journal, make an oral presentation and submit a written report at the conclusion of the program. Parents, high school science department chairs, and TSRI mentors are invited to attend the presentations and a luncheon on the last day.
I ask Lali if she thinks she'll be on the other end of all this someday, running her own lab and mentoring a student. She says she's not sure yet if she'll major in biochemistry or medicine, but knows her studies will involve science somehow.
"Science is what I will do," she states resolutely, then cracks a sassy smile. "It's my thing."
This is certainly something to smile about, because providing students who play an active role in their own education with the opportunity to find and pursue their "thing" is precisely the goal of TSRI's High School Summer Internship Program.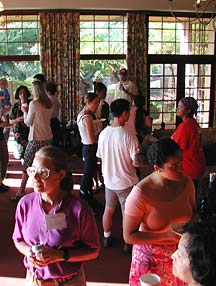 TSRI graduate students and faculty mingle with new summer interns and parents at a welcome reception held at the TSRI Conference Center. Photo by Jason S. Bardi.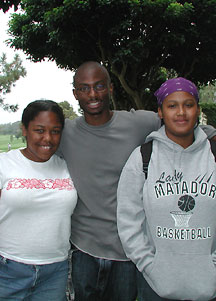 Former TSRI intern Tony Sweeney (center) likes working with Samantha Anderson (right) and Loicia Ware (left) because it keeps him connected to the internship program. Photo by Kevin Fung.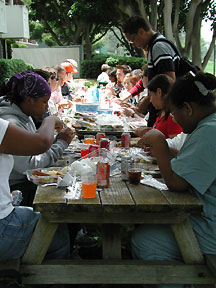 Working at TSRI makes summer interns hungry. Photo by Kevin Fung.