TSRI's Class of 2001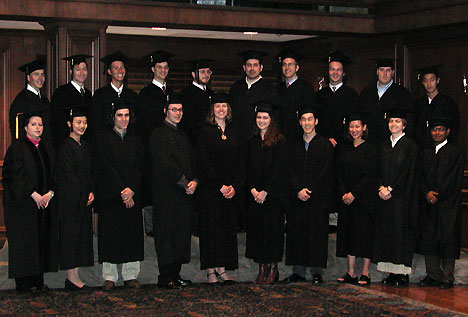 The graduating students gather before the commencement march.
Number of people in this year's graduating class: 21
Number in Chemistry Program: 9
Number in the Macromolecular and Cellular Structure and Chemistry (MCSC) Program: 12
Total number of graduates from TSRI's program: 119
Current U.S. News and World Report national ranking of TSRI's graduate programs: Chemistry,eighth; MCSC, tenth.
Age of the graduate program at The Scripps Research Institute (TSRI): 12 years
Age range of graduates: 26 to 41 years
Approximate average number of years to complete the program: 5
Number of pages in this year's shortest dissertation: 122
Number of pages in this year's longest dissertation: 400
Undergraduate institutions of the graduates: Yale University, University of California at Berkeley, McGill University, Boston University, University of Wisconsin, University of Alberta, University of Manitoba, State University of New York at Fredonia,, Rice University, Brigham Young University, etc.
Employers of the graduates: Stanford University, Harvard University, National Institutes of Health, Syrrx, University of California at Irvine, Acadia Pharmaceuticals, University ETH Zentrum, Structural Genomix, The Salk Institute, Columbia University, Activx Biosciences, Cal Tech, NOVARTIS, Centre Hospitalier de L'Université de Montreal, Array BioPharma, etc.
Number of students continuing at TSRI: 4