Remodeled Showroom Displays Equipment That Fits
By Mika Ono
Operating under the adage "the best cure is prevention," The Scripps Research Institute (TSRI) Environmental Health and Safety Department is opening its remodeled Ergonomic Showroom this week.
"The showroom gives employees a chance to try out the equipment instead of ordering it sight unseen from a catalog," says Barry Rutledge, senior safety consultant with Environmental Health and Safety. "That should help everyone find the items they need to perform their job comfortably and to minimize repetitive motion injuries."
One of the few employer-sponsored ergonomic displays in the region, the facility showcases equipment designed to ease the physical stress of work both in the office and in the lab. Equipment on display includes ergonomically designed chairs, stools, keyboards, keyboard trays, wrist rests, and pipettes. The facility also contains a biological safety cabinet so employees can try out stools and other seating and Environmental Health and Safety personnel can demonstrate proper posture.
The newest member of the Environmental Health and Safety Department, Senior Safety Consultant Karen Trapane, will soon begin coordinating TSRI's ergonomic programs, including the showroom. Trapane, whose 10 years in the field includes extensive experience with ergonomics, is also available for personal ergonomic evaluations.
Trapane says, "Two people can use the same workstation and feel very differently about it. What's comfortable for one person isn't necessarily comfortable for another. With ergonomics, you have to solve problems on an individual basis."
"Ergonomics is more of an art than a science," Rutledge adds.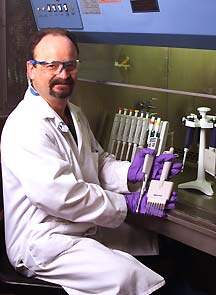 Senior Safety Consultant Barry Rutledge shows some of the equipment in TSRI's remodeled Ergonomic Showroom.