Society of Fellows Enriches TSRI Experience for Junior Scientists
By Mika Ono
What do postdoctoral fellows (and some graduate students and staff members) want? Along with the wish list that everyone has, they seem to crave intellectual stimulation, help with career development, and a chance to socialize with people outside their lab. And that's what The Scripps Research Institute (TSRI) Society of Fellows provides.
"The Society of Fellows sponsors three kinds of events: educational, professional, and social," says Emily Burke, the society's president and research associate (a.k.a. postdoc) in the Buchmeier lab. "In practice, that can mean anything from bringing top-notch scientists to TSRI as lecturers to organizing a whale watching expedition."
The Society of Fellows' most high profile events fall under the rubric of the Distinguished Lecture Series, which recently brought Nobel laureate James Watson, president of Cold Spring Harbor Laboratory, to TSRI. Other speakers coming up include Nobel laureate Stanley Prusiner, professor at the University of California at San Francisco; J. Craig Venter, president of Celera Genomics; and Alfred Wittinghofer, director of the Max-Planck Institute for Molecular Physiology in Germany.
"We invite outstanding scientists to campus," says Avron Spier, research associate in the De Lecea lab who heads the society's lecture series committee, "and most accept our invitation. We don't seek out controversial figures, but we don't shy away from them either."
Lecturers not only give a keynote address open to the public, but also meet in smaller groups and one-on-one with TSRI postdoctoral fellows, graduate students, and others who express interest. "It's a wonderful opportunity for junior scientists to ask those at the top of their fields for advice, as well as to get a real feeling for who these famous people are," Spier remarks.
Another regular feature of campus life sponsored by the Society of Fellows is a symposium in the spring and fall, at which postdocs and graduate students present their work. In the fall, $800 travel scholarships—to be used to present results from TSRI labs at scientific meetings—are awarded to the authors of the best posters. Last fall's winners were: Chemistry Graduate Student Junko Tamiya, Molecular Biology Research Associate Miguel A. Rodriguez, Cell Biology Research Associate Gino Cingolani, and Neuropharmacology Research Associate Noemi Sevilla. Molecular Biology Graduate Student Erika Saphire Ollmann was awarded an honorable mention.
The Society of Fellows' social events include parties, beach picnics, wine tastings, and other outings. Postdoctoral fellows and graduate students often come from afar and arrive knowing few people in San Diego. These gatherings give them a chance to meet each other—and to simply have fun.
The bulk of the society's activities are funded by a one-day vendor show, which is scheduled for May 23 this year. Companies pay a fee to set up booths and display their wares on campus. "It's a lot of work for us to set up the vendor show," Burke comments, "but it's worth it. We focus on raising money with this one event so the rest of the time we can focus on spending it."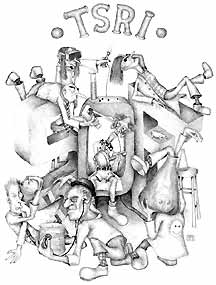 The Society of Fellows sponsors professional, educational, and social activities for TSRI postdocs and graduate students—as well as selling a memorable T-shirt (design above).
---
More Information:
---