Made to Order:
Shop Creates Custom Instrumentation for TSRI Investigators
By Mika Ono
Enrique Saldivar, an assistant professor in TSRI's Molecular and Experimental Medicine Department, knows what he needs: a special rotational device that will enable him to study the flow of particles in suspension. Although the device has never been made, Saldivar is not concerned. He has confidence that the craftsmen in TSRI's Instrumentation and Design Shop have the flexibility and skill to create it.
"Novel experiments often require novel apparatus," says Saldivar, an M.D.-Ph.D. "I'm in the Instrumentation and Design Shop about twice a month asking for something new. As an engineer by training, I appreciate the fine work the shop produces. In engineering, I look for precision of parts and elegance of design—and that's what I see."
The shop, located in the upper basement of The Beckman Center, helps researchers customize their labs by offering a full range of services, including the design of equipment, the actualization of sketches, the modification of tools, and the repair of machinery.
"We focus on service," says Ward Coppersmith, who has directed the shop for 22 years. "Whatever the scientists need, we do. That's why we're here. We provide a level of accountability and quality that you couldn't get consistently from outside vendors."
Coppersmith works with craftsmen John McDowell, Stan Block, and Chris Fish, as well as an administrative assistant, Jerry Bush, to complete the variety of projects requested by scientists across campus. Together, the Instrumentation and Design team can boast over 100 years of shop experience.
The supplies and equipment in the shop itself reflect the range of projects that keep the crew busy day-to-day. Stainless steel, aluminum, a little wood and many types of plastic are piled against the wall. Large saws, lathes, grinders, sanders, drill presses, shearers, and welding devices are strategically located around the small space.
"We have some high-performance equipment," comments Coppersmith, "Those milling machines over there are worth some $60,000. But I like to think we're like a kitchen. We're famous for what we put on the plate, not how we get it there."
A pile of snapshots documents notable projects the shop has produced. Photos of a plate washer that Coppersmith patented, an ice crusher made from scratch for Professor Peter Schultz, a support for a flu virus model all evoke memories. "John is smiling in that picture because we're done." "Look at those parts! Aren't they beautiful?" "We stayed in the shop for three days to build that support. Stan slept on that table over there..."
But no one has time to linger long over past accomplishments. "We've got to get going," Coppersmith explains. "We're working on some time-sensitive projects..."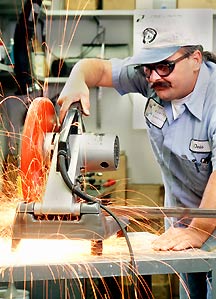 Chris Fish is one of the four craftsmen in Instrumentation and Design.