An Early Start for Students
By Mika Ono
Although it's only mid-August, the 42 students in the 2004 entering class of The Scripps Research Institute's Kellogg School of Science and Technology are not only on campus, they've attended orientation, lunched with the deans, and completed their first weeks of classes.
"In previous years, the biology students started in August and the chemistry students arrived later," says Marylyn Rinaldi, administrative director of the graduate program. "This year, all students were here by August 2 to attend a new required class in experimental methods. One perk of the early start date is that the students have an easier time finding housing, beating the September rush."
While August may seem early to start classes, half a dozen of the first-year students—who come from undergraduate institutions including Stanford University, Cornell University, Vanderbilt University, Boston College, Carleton College, University of Virginia, University of Wisconsin, University of California (Berkeley, Davis, and San Diego), and the University of Tokyo—arrived on campus as early as June.
Simon Hilcove, a graduate of Arizona State University, for example, arrived on June 19. "I wanted to get started," he says. "And the summer weather is a lot nicer in San Diego than in Arizona." Now, almost two months later, Hilcove is deep into a project in the Kelly lab that collaborates with the Bartfai lab to compare the toxicity of various morphologies of amyloid beta protein in primary neurons.
Hilcove and the other first-year students will have plenty of opportunities to get to know each other and to settle into the life and science of Scripps Research in the months ahead.
The new required course, Experimental Methods in Biology and Chemistry, for example, will bring the first-year students together and provide a shared intellectual foundation for their studies. The class, developed by Associate Professor Francisco Asturias and taught by a group of Scripps Research faculty members, will examine research methods employed in experimental biology and chemistry and will seek to sharpen students' skills in the acquisition, assessment, and communication of scientific information and ideas. This is the first time that all students in the program have shared a course requirement, no matter whether their field of study is chemistry, chemical biology, biology, or biophysics.
Incoming students will also be able to select from several elective classes that have been added to the curriculum within the last year, including:
•Molecular Medicine, developed by Daniel Salomon and taught by a number of faculty, which focuses on basic concepts underlying the biology of health and disease, and highlights opportunities for studying challenges in the practice of medicine using the tools of basic biology and chemistry.
•Elementary Biostatistics, taught by Scientific Associate Caroline Lanigan, which provides students with a basic framework for rigorous thinking about data, especially for biological problems.
•Heterocyclic Chemistry, taught by Assistant Professor Phil Baran, focuses on the fundamental chemistry of medicines, aiming to teach students to derive practical and creative retrosyntheses of nearly any heterocycle and to predict the reactivity of systems they have never seen before.
First-year students will be among those attending the annual Student Faculty Retreat on Friday, September 10—this year at the La Costa Resort & Spa in Carlsbad. The event, in which all returning students present a poster or talk of their work, will provide members of the entering class a sense of the breadth and quality of research at the institute. It will also provide a forum for all students to engage in intellectual exchange and career development.
Also ahead is the Faculty Poster Session on Thursday, September 16, from 4 – 6 PM in the Beckman atrium, which will enable incoming students to learn about the work of the many faculty members on campus interested in recruiting a graduate student to their lab.
Send comments to: mikaono[at]scripps.edu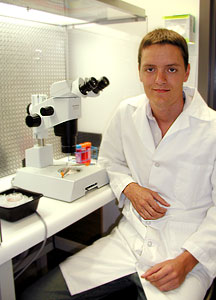 Simon Hilcove was among one of the half dozen students in the Kellogg School entering class who arrived on campus in June. Photo by Kevin Fung.