In Memoriam:
Bernard M. Babior, 1935-2004
Bernard M. Babior, a distinguished medical scientist, died in San Diego, California on June 29, 2004, after a long battle with prostate cancer. For the past 18 years, he was a professor and head of the Division of Biochemistry at The Scripps Research Institute and a staff physician at the Scripps Clinic, both in La Jolla.
Babior was noted for his groundbreaking insights into human biochemistry, particularly as they pertained to the body's defenses against infection. He was one of those rare individuals who was highly respected and considered as "one of our own" both by members of the medical profession and professional biochemists.
Bernard Babior was born in Los Angeles on November 10, 1935. He received his M.D. degree at the University of California at San Francisco in 1959. After interning at Peter Bent Brigham Hospital in Boston, he joined the laboratory of Nobel laureate-to-be Konrad Bloch at Harvard University and was awarded a Ph.D. degree in 1965. He received further training at The National Institutes of Health, then served on the faculty of Harvard University and at Tufts University before moving to Scripps in 1986.
Early in his career, while studying a vitamin B12-dependent enzyme, he recognized that free radicals, very unstable and difficult-to-measure molecules, might play an important role in biologic processes. He showed that highly reactive oxygen derivatives were weapons that white cells use to kill invading bacteria. This revolutionary concept, initially slow to be adopted, is now recognized as one of the important mechanisms that enable humans and lower life forms to exist without being destroyed by invading microbes. One of the proofs that Babior marshaled in favor of this new concept came from an "experiment of nature," chronic granulomatous disease, in which the mechanism by which these oxygen derivatives are formed is defective. Serious and often fatal infections plague the unfortunate victim. But recognition of the role of oxygen free radicals in human health has extended far beyond this rare disease. Babior and others showed that the very weapons that the body makes to protect itself against microbial invasion can also play an important role in a variety of common diseases, including arthritis, arteriosclerosis, and Alzheimer's disease. Treatments that are now being devised for these disorders are based on Babior's insights concerning basic biochemical mechanisms.
On learning of Babior's death, Harvard Professor C. Franklin Bunn, a longtime associate, said: "Bernard Babior greatly advanced our understanding of how white blood cells protect us from bacterial infection. He showed that when a white cell engulfs a bacterium it turns on a signaling cascade that converts oxygen into a potent oxidant that is needed to kill the microorganism. This work opened up a new and important chapter in cell biology and provided insights into the pathogenesis of a number of infectious diseases as well as hematologic and immune disorders."
Ernest Beutler, professor and chair of the Department of Molecular and Experimental Medicine at Scripps Research expressed his condolences to the family and stated: "With Bernie Babior's passing the world has lost not only a great scientist but also a wonderful human being. He loved science, and made seminal contributions to our understanding of how white blood cells work. He was also a caring physician, a generous colleague, a gifted teacher, and a warm friend. He touched the lives of many, and they were all the richer for having known him."
Scripps Research Institute President Richard A. Lerner expressed his sorrow: "Bernie contributed so much during his long tenure at the institute, not only by the invaluable research that has enriched science worldwide, but also through his humanity, his sense of serving those with whom he came in contact. The Scripps community will miss him dearly."
Martha Liggett, executive director of the American Society of Hematology (ASH) lauded Babior: "In addition to his many scientific contributions to hematology, Bernie found time to serve ASH as a member of its Advisory Board, the Finance Task Force and as chair of the Financial Affairs Committee. The ASH Executive Committee awarded Bernie the Exemplary Service Award to recognize these significant efforts. Bernie was one of only six individuals to ever receive this award from ASH."
Irwin Fridovich, emeritus professor of biochemistry at Duke University, a member of the National Academy of Sciences, and a longtime colleague said: "I have been both pleased and proud to count Bernie Babior among my friends... he made many important discoveries and was always true to the scientific method."
Sandor Shapiro, professor of biochemistry and molecular pharmacology, Jefferson Medical College and Cardeza Foundation, said: "He was a marvelous, open, friendly human being, and his passing has created an irreparable lacuna in my life as well as in that of my wife, Susan."
John T. Curnutte, president and CEO, DNAX Research, Inc., was Babior's student at Harvard in the early 1970s. He said: "His striking hypothesis—that white cells might form oxygen radicals such as superoxide in response to threatening microbes—was borne out by experiments I conducted under his careful guidance and confirmed by innumerable investigators around the world. It opened a whole new era of research in host defense and inflammation—and became the scientific bond that joined the two us for the next 32 years." Babior has received numerous honors recognizing his groundbreaking discoveries in biochemistry and medicine. He was elected to membership of the American Society for Clinical Investigation, Association of American Physicians, and the American Academy of Arts and Sciences. In 1999, he was elected to membership in the National Academy of Sciences, one of the very few physicians practicing medicine to achieve this honor. He was awarded many grants by the National Institutes of Health, and served on various peer review groups for that body. He served on the editorial boards of leading professional journals, including the Journal of Clinical Investigation, Blood, Journal of Biological Chemistry, and the American Journal of Hematology. He published more than 250 scientific papers and wrote or edited four books.
He is survived by his wife Shirley of San Diego and their two children, Jill and Gregory. Services are scheduled for 2 PM, Sunday, July 18, at El Camino Memorial Park, 5600 Carroll Canyon Road, San Diego, California.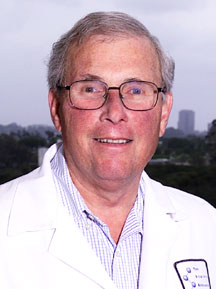 Renowned physician and biochemist Bernard Babior died this week at the age of 69.