Denise Daggett
Title: Industrial Hygiene Manager
Duties: To ensure a healthy and safe working environment for scientists and support staff by providing lab or office evaluations, exposure assessments, and selection of useful control measures. Also, to monitor the institute's compliance with government health and safety regulations.
Education: B.S. in Biology, University of California, Los Angeles. M.S. in Industrial Hygiene, University of Texas Health Science Center School of Public Health.
Work Experience: Four years working at the bench as a research chemist. Twenty years industry and consulting positions in industrial hygiene, including one in which she wrote the health and safety plan for clean-up operations at the World Trade Center site after 9/11. "I'm proud that I insisted on respiratory protection for the workers."
How She Got into the Safety Field: "When I was working as a research chemist, I developed cyanide poisoning after I picked up a bottle contaminated with residue from a spill. After recovery, I chaired the firm's safety committee and found I really enjoyed the field. My personal experience gives me insight into the demands of bench work as well as the potential consequences of worker exposure. I enjoy solving problems to help people."
Started at Scripps Research: November 2003. "I've felt very welcome. My coworkers have been friendly, thoughtful, and helpful."
Extracurriculars: Food and wine. Also, breeding, raising, and showing dogs, especially hounds such as Whippets and Basenjis.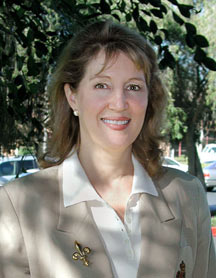 Industrial Hygiene Manager Denise Daggett says, "I enjoy solving problems to help people." Photo by Kevin Fung.