It's a Go:
Florida Governor Signs Bill Funding TSRI Expansion
By Mika Ono
Florida Governor Jeb Bush signed a bill into law this week appropriating $310 million to fund the opening of a Florida branch of The Scripps Research Institute (TSRI). The Palm Beach County government will provide an additional $200 million for the project.
"All of us at Scripps are delighted and honored by the confidence placed in our institution by Governor Bush and the legislature on behalf of the people of Florida," said Richard A. Lerner, president of TSRI. "We are also grateful for the support and commitment of the Palm Beach County government. We look forward to working with our new community to create world-class biomedical research, learning opportunities, jobs, and economic development that will benefit Floridians throughout the state. This is a landmark moment for Scripps and for Florida."
The governor signed the bill into law at Nabi Biopharmaceuticals, a biopharmaceutical facility in Boca Raton, on Monday, November 3.
"Rarely in public service do we have the opportunity to make strong, bold moves with the power to change the future of the people we serve," said Bush in a statement. "The Scripps Research Institute partnership is the key that unlocks the vast potential of biotech research and commerce in this state. Together, Scripps and Florida will build a world-class research facility that spurs discovery as well as economic development across the state."
The bill appropriates $310 million in federal stimulus funds for the start-up operations of the Florida campus—which has been unofficially dubbed "Scripps Florida." The start-up phase of Scripps Florida will last seven years, after which time the research center will be self-sufficient.
According to the provisions of the new legislation, TSRI will not expand beyond California or Florida for 12 years; it will employ at least 545 employees in Florida within seven years; and it will reinvest up to $155 million in royalty income to the state's Biomedical Research Trust Fund.
In addition, TSRI will support education in the state by collaborating with Florida universities, colleges, and academic institutions, offering a graduate program there, establishing a science seminar series, and providing onsite educational opportunities for high school students.
Funds from the Palm Beach County government will go towards building a new facility and research park, scheduled to open in 2006, as well as providing temporary laboratory facilities, which should be up and running in six to eight months.
A delegation of Palm Beach County and Florida Atlantic University officials toured the Scripps La Jolla campus on Wednesday to learn more about the operations there. Guests included Palm Beach County Commissioners Karen Marcus, Addie Green, Jeff Koons, Warren Newell, and Tony Masilotti, as well as Frank Brogan, president of Florida Atlantic University.
"They asked probing questions about how we operate, the kind of people we employ, and the general culture of our institution," said Keith McKeown, vice president of communications and public relations. "There is a tremendous sense of goodwill in the air."
Reporters from the Palm Beach Post, the Sun-Sentinel, and Palm Beach's News12 covered the visit to the TSRI campus.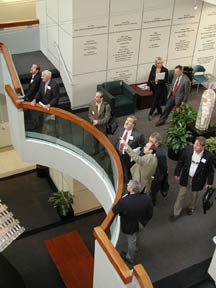 Officials from Palm Beach County and Florida Atlantic University—including Karen Marcus, chair of the Palm Beach County Commission, and Frank Brogan, president of Florida Atlantic University—toured the TSRI campus on Wednesday. Photo by Kevin Fung.