---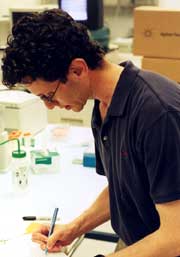 Steven Bark
Manager of the TSRI Open Access Mass Spectrometry Facility
The most critical problem we are going to face with science education will be getting a reasonable level of understanding of basic research to the general population: what it is, where it is going, and how it is impacting people's lives. How radically science is affecting their lives.
Everything from the medicine you take to the glasses that you're wearing to the way you understand the universe depend on the basic research that was done ten, twenty, fifty years ago. How we perceive the future will depend entirely on how people understand science that is done today.
We don't know where the future breakthroughs will come. If people do not understand science, then they won't be able to critically evaluate why it is important to continue research. They won't support basic research, and then the necessary tools may not be there when we need them. Then we as scientists and as people may start failing.