Mass Spectrometry and Proteomics Core
Jupiter, Florida Campus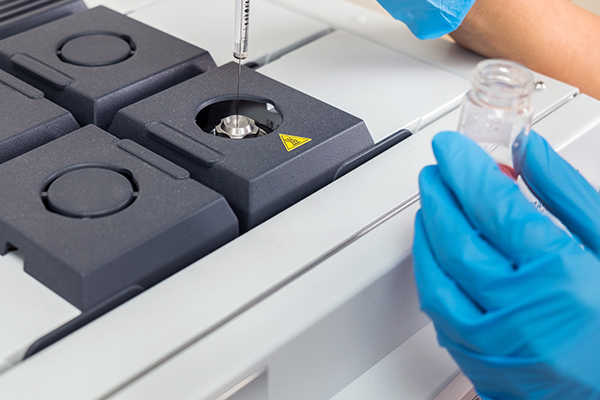 The Mass Spectrometry and Proteomics Core on the Scripps Research Florida campus has one mission: to provide a wide range of state-of-the-art mass spectrometry-based proteomics services to assist with protein characterization, identification and quantification, and apply these technologies to solve relevant biological problems. The core provides support to Scripps Florida faculty and staff who focus on such questions, as well as fee-for-service analyses for external academic and industrial researchers.
Core scientists concentrate on developing and applying the techniques of mass spectrometry for discovery and quantitative proteomic experiments. The Core's biomedical research support is focused on the search for appropriate experimental design, the constant improvement and optimization of protocols, and the actualization of equipment and expertise.
Orbitrap Fusion Tribrid MS
The Thermo Scientific Orbitrap Fusion Tribrid mass spectrometer combines the best of quadrupole, Orbitrap and ion trap mass analysis in a revolutionary Tribrid architecture that delivers depth of analysis. It enables researchers analyzing challenging low-abundance, high-complexity or difficult samples to identify more compounds more quickly, quantify more accurately. Increased sensitivity, scan rate and mass resolution enhance the ability to positively identify more low-abundance proteins, such as transcription factors, in less time. The instrument combines resolution up to 450,000 to remove spectral interferences and multiple fragmentation techniques (CID/HCD/ETD) detected by the Ion Trap or Orbitrap at any level of MSn for maximum experimental flexibility, making the Fusion the instrument of choice for multiplexing quantitation approaches, allowing the identification of 4,000 proteins over an hour HPLC gradient in a single run.
Mass Range
Linear Ion Trap and Orbitrap Mass Range:
    Standard — m/z 50-2,000
    High Mass — m/z 200-4,000
Orbitrap Extended Mass Range:
    Up to m/z 6000 without precursor ion selection
Resolution
15,000-450,000 (FWHM) at m/z 200
Scan Rate
Orbitrap MSn up to 20 Hz
Ion trap MSn up to 20 Hz
Mass Accuracy
< 3 ppm RMS using external calibration
< 1 ppm RMS using internal calibration
The RMS (root mean square) error is calculated using the formula below

Eppm is the ppm error and n is the number of masses considered.
Dynamic Range
> 5,000 within a single scan, guaranteeing specified mass accuracy
MS Scan Power
MSn, for n = 1 through 10
Thermo Scientific™ EASY-ETD™ Ion Source
Generates fluoranthene anions for electron transfer dissociation (ETD)
Townsend discharge ionization is extremely stable and robust
Compact size, located entirely within the footprint of the instrument
Active reagent ion filtering using mass-resolving quadrupole
Synchronous Precursor Selection
Up to 15 precursors per MS2 scan, for MS3 analysis only
Multiplexing Using Ion-Routing Multipole
Up to 10 precursors per scan using quadrupole mass filter
Polarity Switching
One full cycle in 1.1 sec (one full scan in positive mode and one full scan in negative mode at resolution setting of 35,000)
Q Exactive hybrid quadrupole-Orbitrap
The Thermo Scientific Q Exactive hybrid quadrupole-Orbitrap benchtop mass spectrometer combines high-performance quadrupole precursor selection with high-resolution (resolving power up to 140,000), accurate-mass (HR/AM) Orbitrap detection (internal: < 1 ppm and external: < 3 ppm). The Q Exactive MS/MS data provides ultimate confidence for a wide range of qualitative and quantitative applications. Its high scan speed (maximum scan speed 12 Hz) and spectral multiplexing capabilities make it fully compatible with UHPLC and fast chromatography techniques. The Q Exactive instrument can easily handle routine applications in proteomics from bottom-up protein identification to semiquantitative isotopic labeling analyses to targeted quantification experiments. The versatility of the instrument has been applied to characterization of simple and complex protein mixtures including whole cell lysates, mapping of posttranslational modifications, and quantitative proteomics analysis of metabolic labeled (SILAC) samples or identification of chemically isotope labeled proteomes using Tandem Mass Tags (TMT) for multiplexing quantitative analysis.
Mass Range
m/z 50-2,000
Max Resolving Power
140,000 (FWHM) at m/z 200
Max Scan Rate
Up to 12 Hz at resolution setting of 17,500 @ m/z 200
Mass Accuracy
< 3 ppm RMS using external calibration
< 1 ppm RMS using internal calibration
The RMS (root mean square) error is calculated using the formula below

Eppm is the ppm error and n is the number of masses considered.
Dynamic Range
5000:1
Multiplexing
Up to 10 precursors per scan
Polarity Switching
One full cycle in < 1 sec (one full scan positive mode and one full scan negative mode at resolution setting of 35,000)
Linear ion trap LTQ XL
The Thermo Scientific LTQ XL delivers MSn performance to generate extensive structural information for routine proteomics applications. The LTQ XL supplies outstanding sensitivity and abundant structural information for: protein identification and quantitative differential expression analysis, biomarker studies and PTM identification. The high scan speed and robustness of the instrument are applied to top-down proteomics by liquid chromatography mass spectrometry (LC-MS) to determine the intact protein molecular weight and relative quantification.
Mass Range
m/z 15 to 200 Da
m/z 50 to 2 000 Da
m/z 200 to 4 000 Da 
Max Resolving Power
Down to 0.05 FWHM (full width half maximum with Ultra ZoomScan)
Non-MS instruments
The Agilent 1100 HPLC is a well-established and robust instrument used for proteins, peptides or small proteins purification using reverse phase separation. Detection systems include UV, multi wavelength and fluorescence. The instrument is now dedicated to a novel basic reversed-phase chromatography with multiple fraction concatenation strategy for proteome profilings.
Wang T et al. Proteomics. 2011 May;11(10):2019-26.
The Nano ITC isothermal titration calorimeter is designed to provide maximum sensitivity and flexibility for the study of biomolecular binding. It uses solid state thermoelectric heating and cooling systems to precisely control temperature, and have a flexible injection syringe assembly for efficient and accurate delivery of titrant.
We also have extensive bioinformatics tools available such as different search engines (SEQUEST, Mascot, X! Tandem, ProLuCID, MassMatrix), data treatment software (Proteome Discoverer, Scaffold Q+S, Census) and system biology software (Ingenuity) as well as extensive experience with multiple quantification and pathway software. The Proteomics Core also works in close collaboration with the Informatics Core in the development of custom software or pipeline specific to individual projects.
The informatics support for the proteomics core at Scripps Florida is headed by Bruce Pascal. Advanced informatics analysis is commonly needed to deal with the complexity of samples, the dynamic range of protein concentrations, post-translational modifications, alternative splice isoforms, and differences in databases. 
Primary tasks include:
Research and integration of existing protein informatics tools
Development of novel proteomics tools and workflows
Integration of proteomics and genomics data
Pathway, disease ontology analysis
Data mining and integrating with public and data resources
Providing advanced analysis and data management of proteomic data
Developing, maintaining and updating software libraries and databases
Preparing grants and manuscripts
It is our policy that key collaborator(s) within the Scripps Florida share in co-authorship of any manuscripts that are the result of work performed at the Core. Minimally, the Proteomics Core should be acknowledged as follows in publications: This work is supported in part by Scripps Research Florida Proteomics Core. Here are the ABRF guidelines for authorship for personnel working in facilities such as Scripps Research Proteomics Core.
Stable and Potent Selenomab-Drug Conjugates
Li X, Nelson CG, Nair RR, Hazlehurst L, Moroni T, Martinez-Acedo P, Nanna AR, Hymel D, Burke TR Jr, Rader C
Cell Chem Biol. 2017 Mar 9
RasGRP1 promotes amphetamine-induced motor behavior through a Rhes interaction network ("Rhesactome") in the striatum
Shahani N, Swarnkar S, Giovinazzo V, Morgenweck J, Bohn L, Scharager-Tapia C, Pascal B, Martinez-Acedo P, Khar K, Subramaniam S
Sci. Signal.  2016 Nov;9(454), ra111
Software Analysis of Uncorrelated MS1 Peaks for Discovery of Post-Translational Modifications
Pascal BD, West GM, Scharager-Tapia C, Flefil R, Moroni T, Martínez-Acedo P, Griffin PR, Carvalloza AC
J Am Soc Mass Spectrom. 2015 Dec;26(12):2133-40
SERBP1 Is a Component of the Liver Receptor Homologue-1 Transcriptional Complex
Mari Y, West GM, Scharager-Tapia C, Pascal BD, Garcia-Ordonez RD, Griffin PR
J Proteome Res. 2015 Nov 6;14(11):4571-80
Site-Specific Proteomic Mapping Identifies Selectively Modified Regulatory Cysteine Residues in Functionally Distinct Protein Networks
Gould NS, Evans P, Martínez-Acedo P, Marino SM, Gladyshev VN, Carroll KS, Ischiropoulos H
Chem Biol. 2015 Jul 23;22(7):965-75
Mass spectrometry approach and ELISA reveal the effect of codon optimization on N-linked glycosylation of HIV-1 gp120
Honarmand Ebrahimi K, West GM, Flefil R
J Proteome Res. 2014 Dec 5;13(12):5801-11
New approach to capture and characterize synaptic proteome
Liu XA, Kadakkuzha B, Pascal B, Steckler C, Akhmedov K, Yan L, Chalmers M, Puthanveettil SV
Proc Natl Acad Sci U S A. 2014 Nov 11;111(45):16154-9
Proteomic analysis of peptides tagged with dimedone and related probes
Martínez-Acedo P, Gupta V, Carroll KS
J Mass Spectrom. 2014 Apr;49(4):257-65
Using unnatural amino acid mutagenesis to probe the regulation of PRMT1
Rust HL, Subramanian V, West GM, Young DD, Schultz PG, Thompson PR
ACS Chem Biol. 2014 Mar 21;9(3):649-55
General statistical framework for quantitative proteomics by stable isotope labeling
Navarro P, Trevisan-Herraz M, Bonzon-Kulichenko E, Núñez E, Martínez-Acedo P, Pérez-Hernández D, Jorge I, Mesa R, Calvo E, Carrascal M, Hernáez ML, García F, Bárcena JA, Ashman K, Abian J, Gil C, Redondo JM, Vázquez J
J Proteome Res. 2014 Mar 7;13(3):1234-47
Ischemic preconditioning protects cardiomyocyte mitochondria through mechanisms independent of cytosol
Ruiz-Meana M, Núñez E, Miro-Casas E, Martínez-Acedo P, Barba I, Rodriguez-Sinovas A, Inserte J, Fernandez-Sanz C, Hernando V, Vázquez J, Garcia-Dorado D
J Mol Cell Cardiol. 2014 Mar;68:79-88
Decoding split and pool combinatorial libraries with electron-transfer dissociation tandem mass spectrometry
Sarkar M, Pascal BD, Steckler C, Aquino C, Micalizio GC, Kodadek T, Chalmers MJ
J Am Soc Mass Spectrom. 2013 Jul;24(7):1026-36
Direct interaction between AR and PAK6 in androgen-stimulated PAK6 activation
Liu X, Busby J, John C, Wei J, Yuan X, Lu ML
PLoS One. 2013 Oct 10;8(10):e77367
A novel strategy for global analysis of the dynamic thiol redox proteome
Martínez-Acedo P, Núñez E, Gómez FJ, Moreno M, Ramos E, Izquierdo-Álvarez A, Miró-Casas E, Mesa R, Rodriguez P, Martínez-Ruiz A, Dorado DG, Lamas S, Vázquez J
Mol Cell Proteomics. 2012 Sep;11(9):800-13
Probing adenylation: using a fluorescently labelled ATP probe to directly label and immunoprecipitate VopS substrates
Lewallen DM, Steckler CJ, Knuckley B, Chalmers MJ, Thompson PR
Mol Biosyst. 2012 Jun;8(6):1701-6
Application of iTRAQ Reagents to Relatively Quantify the Reversible Redox State of Cysteine Residues
McDonagh B, Martínez-Acedo P, Vázquez J, Padilla CA, Sheehan D, Bárcena JA
Int J Proteomics. 2012;2012:514847
Phosphorylation of Y372 is critical for Jak2 tyrosine kinase activation
Sayyah J, Gnanasambandan K, Kamarajugadda S, Tsuda S, Caldwell-Busby J, Sayeski PP
Cell Signal. 2011 Nov;23(11):1806-15
A biomimetic polyketide-inspired approach to small-molecule ligand discovery
Aquino C, Sarkar M, Chalmers MJ, Mendes K, Kodadek T, Micalizio GC
Nat Chem. 2011 Nov 20;4(2):99-104
Cell death induced by the Jak2 inhibitor, G6, correlates with cleavage of vimentin filaments
Majumder A, Kirabo A, Karrupiah K, Tsuda S, Caldwell-Busby J, Cardounel AJ, Keseru GM, Sayeski PP
Biochemistry. 2011 Sep 13;50(36):7774-86
A robust method for quantitative high-throughput analysis of proteomes by 18O labeling
Bonzon-Kulichenko E, Pérez-Hernández D, Núñez E, Martínez-Acedo P, Navarro P, Trevisan-Herraz M, Ramos Mdel C, Sierra S, Martínez-Martínez S, Ruiz-Meana M, Miró-Casas E, García-Dorado D, Redondo JM, Burgos JS, Vázquez J
Mol Cell Proteomics. 2011 Jan;10(1):M110.003335
Cyclosporine A-induced nitration of tyrosine 34 MnSOD in endothelial cells: role of mitochondrial superoxide
Redondo-Horcajo M, Romero N, Martínez-Acedo P, Martínez-Ruiz A, Quijano C, Lourenço CF, Movilla N, Enríquez JA, Rodríguez-Pascual F, Rial E, Radi R, Vázquez J, Lamas S
Cardiovasc Res. 2010 Jul 15;87(2):356-65
Sperm proteomics reveals intensified selection on mouse sperm membrane and acrosome genes
Dorus S, Wasbrough ER, Busby J, Wilkin EC, Karr TL
Mol Biol Evol. 2010 Jun;27(6):1235-46
A novel cross-talk in diacylglycerol signaling: the Rac-GAP beta2-chimaerin is negatively regulated by protein kinase Cdelta-mediated phosphorylation
Griner EM, Caino MC, Sosa MS, Colón-González F, Chalmers MJ, Mischak H, Kazanietz MG
J Biol Chem. 2010 May 28;285(22):16931-41
Activation domain-dependent degradation of somatic Wee1 kinase
Owens L, Simanski S, Squire C, Smith A, Cartzendafner J, Cavett V, Caldwell Busby J, Sato T, Ayad NG
J Biol Chem. 2010 Feb 26;285(9):6761-9
Mapping the phosphorylation sites of Ulk1
Dorsey FC, Rose KL, Coenen S, Prater SM, Cavett V, Cleveland JL, Caldwell-Busby J
J Proteome Res. 2009 Nov;8(11):5253-63
Statistical model to analyze quantitative proteomics data obtained by 18O/16O labeling and linear ion trap mass spectrometry: application to the study of vascular endothelial growth factor-induced angiogenesis in endothelial cells
Jorge I*, Navarro P*, Martínez-Acedo P*, Núñez E, Serrano H, Alfranca A, Redondo JM, Vázquez J Mol Cell Proteomics. 2009 May;8(5):1130-49 (*These authors contributed equally to this work.)
Strategies to recover proteins from ocular tissues for proteomics
Patel N, Solanki E, Picciani R, Cavett V, Caldwell-Busby JA, Bhattacharya SK
Proteomics. 2008 Mar;8(5):1055-70
A coactivator trap identifies NONO (p54nrb) as a component of the cAMP-signaling pathway
Amelio AL, Miraglia LJ, Conkright JJ, Mercer BA, Batalov S, Cavett V, Orth AP, Busby J, Hogenesch JB, Conkright MD
Proc Natl Acad Sci U S A. 2007 Dec 18;104(51):20314-9
High-sensitivity analysis of specific peptides in complex samples by selected MS/MS ion monitoring and linear ion trap mass spectrometry: application to biological studies
Jorge I, Casas E, Villar M, Ortega-Pérez I, López-Ferrer D, Martínez-Ruiz A, Carrera M, Marina A, Martínez P, Serrano H, Cañas B, Were F, Gallardo JM, Lamas S, Redondo JM, García-Dorado D, Vázquez J
J Mass Spectrom. 2007 Nov;42(11):1391-403
The N-terminal SH2 domain of the tyrosine phosphatase, SHP-2, is essential for Jak2-dependent signaling via the angiotensin II type AT1 receptor
Godeny MD, Sayyah J, VonDerLinden D, Johns M, Ostrov DA, Caldwell-Busby J, Sayeski PP
Cell Signal. 2007 Mar;19(3):600-9
Proteomic analyses of zebra finch optic tectum and comparative histochemistry
Sloley S, Smith S, Gandhi S, Busby JA, London S, Luksch H, Clayton DF, Bhattacharya SK
J Proteome Res. 2007 Jun;6(6):2341-50
Proteomic analyses of songbird (Zebra finch; Taeniopygia guttata) retina
Sloley S, Smith S, Algeciras M, Cavett V, Busby JA, London S, Clayton DF, Bhattacharya SK
J Proteome Res. 2007 Mar;6(3):1093-100
Trizol-based method for sample preparation and isoelectric focusing of halophilic proteins
Kirkland PA, Busby J, Stevens S Jr, Maupin-Furlow JA
Analytical Biochem. 2006 Apr 15;351(2):254-9
Both short-term and long-term storage of the acquired files is the sole responsibility of the users of the Core. Scripps Research Proteomics Core will strive to maintain (but not guarantee) copies of acquired raw data files for up to one year of the acquisition date. After that time, the files will be purged/deleted from our storage systems, with prior notification to the users.
Contact