Flow Cytometry
Jupiter, Florida Campus
Flow cytometry measures and analyzes the characteristics of single particles, normally cells, as they move in a stream and are passed through a laser. Thousands of cells can be analyzed by a flow cytometer in a single second. Among the measurements derived from flow cytometry are the size, relative fluorescence and complexity of the particle.
Please read below to learn more about the services offered on our Jupiter, Florida campus.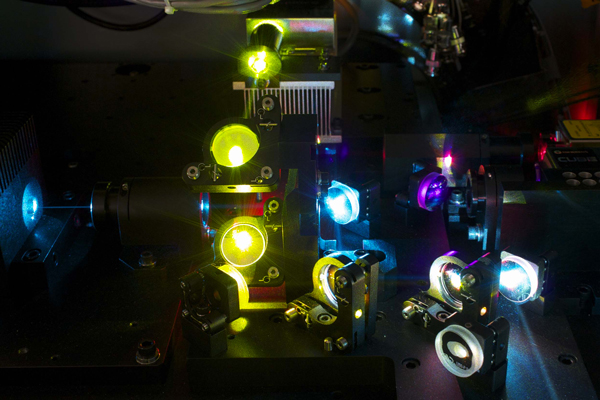 Normal operating hours: Monday - Friday, 9:00 a.m. - 6:00 p.m. (ET).
End-user access available 24/7 after training.
Flow cytometry measures phenotypic, biochemical and molecular characteristics of individual cells or particles suspended in a fluid stream. The cells flow single file past focused laser beams and light scatter or fluorescence data is collected. Tens of thousands of cells can be interrogated by a flow cytometer in a single second. Flow cytometry can be used for a variety of applications, most commonly including cell analysis or high speed cell sorting. The Flow Cytometry Core (FCC) on the Jupiter, Florida campus of Scripps Research serves the campus community as well as researchers from outside Scripps Research on a fee-for-service basis.
Technologies Available:
Cell Sorting
ARIA: violet, blue, green and red lasers
FUSION: violet, blue, green and red lasers
Cell Analysis 
LSR2: ultra-violet, violet, blue, green and red lasers
GALLIOS: violet, blue, green and red lasers
CANTO: violet, blue and red lasers

IMAGESTREAM MKII: violet, blue, green, red, and side-scatter lasers
Laser Microdissection and Fluorescence Imaging 
Hematology 
Services
The new calendar can be found here:  http://www.supersaas.com/schedule/FlowCore/TSRI-FL_FlowCytometry 
You may view the calendar at any time; however, in order to add a new reservation, you will need to create an account. Click on the "Sign In" link and follow the prompts. Your UserID must be your Scripps Research email address, but you should create a unique password that is different from that of your email account. Please let us know if you require assistance.
Reserving time on the Cell Sorter
Scheduling Policy: The final schedule is issued each Monday for the second following week. While FCC staff will make every effort to accommodate all requests, please note that submission of a request does not guarantee the requested date and time, since we may have multiple requests for the same time slots. In the event such a conflict, FCC staff will contact the involved parties to try to accommodate all parties. If this is not possible, FCC staff will prioritize the requests based on special circumstances and/or the relative amount of recent usage by the requesting individual and/or his/her lab. Once sort requests are approved, an email confirmation will be sent, confirming the date and time. For time sensitive experiments, we recommend that you do not start your procedure until an appointment is confirmed.
Once the weekly schedule has been posted on Monday, all remaining unassigned time is open for booking on a first-come, first-served basis.
Note that a biosafety assessment must be conducted for each new type of sort request.
After-hours Sorting: The Flow Core recognizes a need for cell sorting experiments which fall outside of business hours due to special circumstances. To better facilitate these experiments, the Flow Core will accommodate cell sorting until 7:30pm, Monday through Thursday. Special circumstances which may warrant this accommodation include:
Late receipt of live samples from external sources which require immediate processing.
Exceedingly long sample preparation methods that must begin in the wee hours of the day.
All other special accommodations should be communicated to the Flow Core.
Special circumstance requests should be submitted via the sort request form with a minimum of one week notice. Sort requests received with less than one week notice will be accommodated dependent on operator availability at their sole discretion.
Delays or changes: Please note that we cannot delay the appointments of others if you are late for your sort. If no one is scheduled, late sorts or additional sort time will be accommodated within the normal operating hours of the facility. You must notify the Flow Core by email as soon as possible if there are any changes to the biosafety background information and/or the cell sorting details (ie. sample number, cell number, staining panel). 
Reserving time on the Analyzers
If you are not an authorized user, please contact the FCC at flowcore@scripps.edu for scheduling and/or training.
Scheduling Policy:
Independent users are required to follow all startup and shutdown procedures at all times.
During peak hours, 9 a.m. to 6 p.m., authorized users may schedule a maximum continuous block of three hours in advance. If the instrument is not booked by another user at the time of use, the user may continue operation.
During peak hours, 9 a.m to 6 p.m., users may schedule more than one appointment per day with a minimum of three hours between appointments. Exceptions may be made for special circumstances. Please contact the FCC at flowcore@scripps.edu.
Unfortunately, users who are late to their scheduled appointment cannot assume they will get more time. Please keep in mind your appointment may be cut short if there are other users scheduled. If users need more time, user may continue operation depending on availability; however, the PI will be charged for the original start time through the actual end time.
To preserve function of the instruments, if no one is scheduled immediately after you (greater than three hours between appointments), you are responsible for turning off the analyzer. Failure to comply will result in billing for the entire time that the instrument is left on and unattended. Users will also be billed at operator assisted rates for any additional time necessary to restore instrument to proper working order.
If you no longer need your analyzer appointment and are planning on cancelling your reservation, please be sure to turn off the cytometer if required per the scheduling policy.
Users are responsible for exporting their data onto their own hard drive upon finishing experiments. Experiments older than 30 days will be periodically deleted from browser software  without notice to the user.
No files should be stored on the computer's C: or D: hard drive. Any files found on the computer hard drive will be deleted immediately  without notice. 
Reserving time for Microdissection, Imaging, or Hemavet
Authorized users may schedule their own time.
If you are not an authorized user, please contact the FCC at flowcore@scripps.edu for scheduling and/or training.
*The hourly rate is the same for all users, within or outside of Scripps, from academia or industry.  However, payments from funding sources for which indirect costs have not already been paid to Scripps will incur an additional fee for overhead cost recovery, currently 85% for academic users (inside or outside of Scripps) and 99% for non-academic use.
Effective October 1, 2019:
TSRI Investigators
Instrument
Operator- assisted
User- operated
ARIA3 cell sorter
$60/hr
-
Fusion cell sorter
$60/hr
-
LSR2 analytical cytometer
$60/hr
$45/hr
Gallios analytical cytometer
$60/hr
$40/hr
Canto analytical cytometer
$60/hr
$35/hr
ImageStream MkII imaging cytometer
$60/hr
$45/hr
Leica LMD 7000 (microdissection and imaging)
$60/hr
$40/hr
LCM slides
-
$8.50/slide
Hemavet 950FS
-
$5/sample
BD 12x75mm tube with cell strainer cap (25 tubes/bag)
-
$25/bag

There is a minimum charge of 1 hour for the cell sorters, but there are no other setup charges, regardless of configuration.  Cancellations more than 48 hours before the scheduled sort time will not be charged.  Cancellations 24-48 hours in advance will be charged for one hour of time, and cancellations 0-24 hours in advance will be charged for 50% of the time reserved but minimum 1hr.  Late shows or no shows incur the full charge for time reserved.
Charges for all instruments (except the Hemavet) are determined by the time used or reserved, whichever is greater. We therefore encourage you to carefully consider how much time you reserve/request. Reservations on the analyzers are limited to a maximum of three contiguous hours.  If you need assistance in determining how much time you need, please contact us.
Contact/Staff
---
Please contact us to learn more about the core, inquire about services or scheduling. Additionally, please contact us if you have any concerns you feel are not being addressed, suggestions for improvement or new technologies you would like to develop.