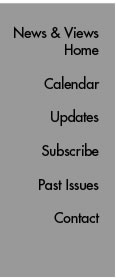 In Brief
Protect Against the Flu
Flu immunization clinics will be offered to Scripps Research employees on both Florida and California campuses.
A flu immunization clinic on the California campus—the only one planned this year—is scheduled for Thursday, September 22, from 9 AM to 5 PM, and Friday, September 23, 9 AM to 4:30 PM in Room 205, 3377 North Torrey Pines Court.
At Scripps Florida, the clinic will be held from 10:30 M to 3:30 PM, Wednesday, October 19, in coordination with the campus benefits Open Enrollment Fair.
The clinics are open to all Scripps Research employees, research associates, and graduate students. Immunizations are free, and no appointments are necessary. Personal identification is required.
For further information, please contact Kim Akalski (California) at (858) 784-8501 or kima@scripps.edu or Christine Ng-A-Fook (Florida) at (561) 228-2036 or cngafook@scripps.edu.


Opening Soon: Feast on This Grill at North Torrey Pines Court
Breakfast and lunch dining service returns to the California campus's North Torrey Pines Court with the new Feast On This Grill, Monday, September 26.
The grill's menu features:
Freshly prepared hot menu items for breakfast, lunch, and snacks
Self-service fruit and salad bar and "grab and go" options
Soup du jour
Sandwich bar, made to order, and "grab and go" options
High quality, fresh deli meats, beef, chicken, fish, baked, and produce products
Assortment of carbonated beverages, coffee, tea, and fresh or bottled non-carbonated beverages and/or juices
Environmentally friendly packaging and serveware
The grill will be open 7:30 AM to 3 PM, Monday through Friday.


Postdocs Celebrate with Symposium, Levity, and Happy Hour
To commemorate the third annual National Postdoctoral Appreciation Week, the Scripps California Society of Fellows (SOF) and the Career and Postdoctoral Services Office will host the 2011 Fall Research Symposium Wednesday, September 21, according to new SOF president Jack Scatizzi, research associate in the Kono lab.
In addition, SOF will celebrate the week with a screening of the movie based on the popular PhD Comics online comic strip that pokes fun at graduate life. The film will be shown 5:30 PM, Thursday, September 22, in the Keck Auditorium. A SOF Happy Hour is also planned for 5 PM, Friday, September 23. For Happy Hour location or further details, visit the SOF webpage or contact Scatizzi.


Emergency Number Reminders
In addition to information posted on the Scripps Research website, remember the following hotlines are available in an emergency situation:
CALIFORNIA
The California Campus Status Hotline, at (858) 784-7000. California employees can call the hotline in any regional emergency for a recorded message on the work status of the campus.
In case of an emergency on the California campus, dial "77." The call is connected automatically with the security operator located at the Beckman Center front entrance. The security operator will answer, take preliminary information, and then ask caller to hold as he/she is transferred to the 911 operator. It is important not to disconnect the call during this transfer; the line will be silent until the 911 operator answers (this may take more than a minute). During the call, other members of the Scripps Research Emergency Response Team will be alerted to provide additional assistance.
FLORIDA
The Florida Campus Status Hotline at (561) 228-2999. Florida employees can call the hotline in any regional emergency, such as hurricanes, for a recorded message on the work status of the campus.
In case of a Florida campus emergency, call "911." Dialing 911 from a Scripps phone automatically connects the caller to Scripps Florida Security desk in Building B reception. Security will obtain the critical information and immediately contact the Scripps Emergency Response Team and the Palm Beach County emergency center, which will dispatch the appropriate team from Jupiter Police, Palm Beach County Fire Rescue, and/or EMS to the Florida campus.
Send comments to: mikaono[at]scripps.edu