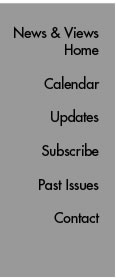 In Brief
CA Campus Cafeterias Close Temporarily
Scripps California campus cafeterias will be closed temporarily as the facilities, menus, and services are updated and enhanced, according to the Procurement Department.
The 3040 Science Park Café closed Friday, July 29; the MEM break room food service closes Thursday, August 11. Both facilities are expected to re-open Tuesday, September 6.
The North Torrey Pines Court cafeteria and the Immunology Building coffee cart will close Friday, August 12. The coffee cart, with grab-and-go food times, is estimated to re-open in early September, while the cafeteria is scheduled to re-open Monday, September 19.
During the shut-downs, the following dining alternatives are available:
Green Hospital Cafeteria, 10666 N. Torrey Pines Road (Click for menu.)
Come on In Café, 1030B Torrey Pines Road, 858-657-9166, F: 858-657-9215
Science Park Café, 11011 N. Torrey Pines Road, #100, 858-546-0505
L-3 Cafeteria by Yung's Catering, 3033 Science Park Road
Sanford-Burnham Bistro by Culinart, 10901 N. Torrey Pines Road, Building 5, second floor; badge access not required, from 11 AM to 2 PM
When re-opened, campus food service facilities will feature a new vendor, Feast on This Grill, providing onsite catering, same-day online ordering, and enhanced menus offering vegetarian, vegan, low-fat, high-protein, regional, and ethnic-based cuisine.
For questions or further details on the cafeteria and coffee cart schedules, contact Procurement Director June Lombardi at june@scripps.edu.


Immunization & TB Screening Onsite Clinics Scheduled
Employee on-site clinics for tuberculosis (TB) screening and hepatitis B and tetanus immunizations are scheduled Monday, August 1, Wednesday, August 3, and Friday, August 5, from 11 AM to 2 PM in room 325, building 3366.
No appointments are necessary for the clinics, conducted by personnel from Sharp Reese-Stealy Medical Group.
TB screening will be available Monday and Wednesday. This screening requires a 48- to 72-hour follow-up to evaluate the screening results; individuals receiving TB screening on Monday must return Wednesday; those screened on Wednesday must return Friday.
For further details regarding the clinic programs, visit the Environmental Health & Safety Occupational Medicine web page.


Florida NWiS Sets Sail
Florida campus Network for Women in Science (NWiS) recently took to the sea, hosting a summer evening sailing cruise of Palm Beach and Peanut Island. The July 22 event drew nearly two dozen NWiS members and guests. While the organization's monthly meetings focus on issues of concern to women in science, recreational events such as the sailing outing are planned to help foster a sense of community and fun among NWiS members and other Scripps Research groups, said organizer Briana Weiser, a graduate student in the Tellinghuisen lab.
Send comments to: mikaono[at]scripps.edu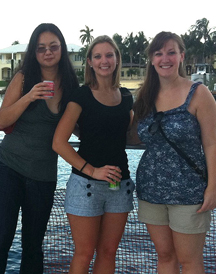 Enjoying the recent Florida NWiS-sponsored sailing cruise were (left fot right) graduate students Lingshan Wang, Crystal Young, and Briana Weiser.