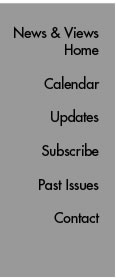 Snapshot: Jean-Christophe Ducom
Position: High-Performance Computing Manager, Information Technology (IT) Services
Responsibilities: Ducom considers his primary function to help Scripps Research faculty "create a vision for scientific computing." His current projects include helping implement a new state-of-the-art HPC data storage infrastructure and promoting researchers' use of high performance computing resources and services for grant submissions. "Science has entered a new era of data-intensive scientific applications," Ducom observes. His near-term goal is to ensure effective and efficient high performance computing services "so that scientific computing research at the institute can be achieved at the highest possible level."
Background: A native of Marmande, a small town in the wine country of southwestern France, Ducom earned a PhD in theoretical physics in Marseille, France in 1996. He completed a postdoctoral fellowship at the Georgetown Institute of Computational Neurosciences, Washington, DC, and in the Brain and Cognitive Sciences Lab in Rochester, NY. There he also met his wife, Julie.
Returning to France in 1999, Ducom co-founded and served as the chief technology officer a start-up company, Megalinux, providing hardware and consulting services for research lab, schools, and universities based on Linux/Unix operating systems. In 2001, Ducom came back to the United States to work for the University of Notre Dame to architect and maintain its high-performance computing infrastructure. He joined Scripps Research in La Jolla to "face new challenges, as well as to escape the challenge of digging out from under the Indiana snow!"
Arrival at Scripps Research: November 1, 2010
Thoughts on working at Scripps Research: "I think the life sciences are the next frontier for supercomputing. I'm excited to be in the right place at the right time to serve a community (genomics, biochemistry, proteomics, etc.) that has typically been underserved by the high-performance computing field. More importantly, for the first time ever, my office has a view!"
Other Activities: Ducom enjoys discovering California's many attractions—natural and manmade—and visiting remote-control-airplane parks with his two sons Abel, four and Thomas, two. He also holds a pilot's license.
Send comments to: mikaono[at]scripps.edu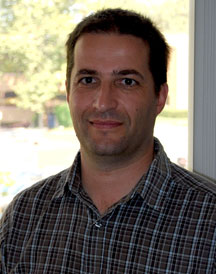 Jean-Christophe Ducom wants to ensure that "scientific computing research at the institute can be achieved at the highest possible level." (Photo by Cindy Brauer.)