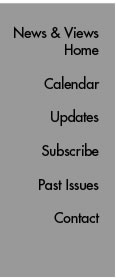 Scripps Institutions Join National Tumor Consortium
The Scripps Research Institute, Scripps Health, and Scripps Translational Science Institute (STSI) have announced they have joined a national consortium of research institutions headed by The Jackson Laboratory (JAX) that is building a library of primary human tumors with the goal of developing highly targeted cancer therapies.
"By joining this consortium, we will contribute to and share in a tumor library that will vastly exceed what any institution could build on its own," said Nicholas J. Schork, professor at Scripps Research and director of bioinformatics and biostatistics at STSI. "This shared resource ultimately will greatly expand research capacity for all consortium members, with the goal of accelerating drug development for individualized approaches to each type of tumor."
JAX launched the Primary Human Tumor Consortium in 2009. Consortium members provide solid human tumor samples to JAX, which performs their initial genomic characterization and grafts them into mouse models for scientific study. Consortium scientists then have access to the models to conduct research on how to better understand and treat cancer, including the potential for tumor-specific therapies.
Mouse models that can accept newly resected human tumors offer a highly productive way to develop and test cancer treatments. Mouse models of virtually any kind of cancer can be developed, providing a more individualized approach to finding new treatments.
This approach stands in stark contrast to the standard way of discovering new therapies for cancer, which relies on the use of tumor cell lines. The tumor cell-line approach can be problematic, since genetic mutations naturally occur as those cells divide and reproduce. Consequently, the cells may drift into a different genetic profile and any treatments designed to target the original tumor won't work. Also, the cell-line approach provides insights into which therapies are ineffective, but doesn't predictably prove which ones are effective.
"The biomedical research community needs a common, readily accessible resource to support this vital effort," said JAX Executive Vice President and Chief Operating Officer Chuck Hewett. "No single cancer center has a sufficiently broad patient population to meet this need, so we must work together."
Located at The Jackson Laboratory's JAX-West facility in Sacramento, CA, the Primary Human Tumor Consortium seeks additional health care and research partners to speed the development of this tumor library resource. Other participating institutions outside San Diego include the University of Florida, the Swedish Neuroscience Institute in Seattle, and UC Davis Cancer Center.
To date, the consortium has engrafted 172 tumors, with tumor sites including prostate, pancreas, lung, kidney, colon, breast, brain and bladder.
For more information on JAX, see www.jax.org. For more information on STSI, see www.stsiweb.org. For more information on Scripps Health, see www.scripps.org.
Send comments to: mikaono[at]scripps.edu

---
"By joining this consortium, we will contribute to and share in a tumor library that will vastly exceed what any institution could build on its own."
— Nicholas J. Schork

---