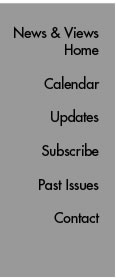 Etcetera
David Sarlah and Jun Shi Receive Roche Excellence in Chemistry Awards
Two Scripps Research Institute graduate students—David Sarlah, of the Nicolaou lab, and Jun Shi, of the Baran lab—were honored wtih Roche's Excellence in Chemistry Awards for research accomplishments in the field of organic chemistry. Sarlah and Shi were among just 12 advanced graduate students from across the nation who received the 2011 award. Winners were nominated by their faculty advisors and selected by a committee of Roche scientists
Winning students recently received a crystal award and an honorarium, and presented their research projects at the global biotech company's annual two-day "Roche Symposium: Excellence in Chemistry" in Nutley, New Jersey.


Keary Engle Awarded NSF Summer Fellowship
Keary Engle, graduate student in the Yu lab, has been awarded a National Science Foundation (NSF) East Asia and Pacific Summer Institute (EAPSI) fellowship. Engle will pursue a ten-week collaborative research project in Professor Kyoko Nozaki's lab at the University of Tokyo. Offering project opportunities in Australia, China, Japan, Korea, New Zealand, Singapore, or Taiwan, the NSF EAPSI program aims to introduce U.S. graduate students to East Asia and Pacific science and engineering efforts within a research setting and promote students' future scientific relationships and collaboration with foreign counterparts.


Scripps Research Hosts JDRF San Diego Meeting
Scripps Research hosted the 2011 annual meeting of the San Diego Chapter of the Juvenile Diabetes Research Foundation (JDRF) June 2. The meeting featured a keynote presentation by Scripps Research Professor Peter Schultz, whose laboratory conducts work funded by the JDRF.
"We welcome the Juvenile Diabetes Research Foundation to our campus," said Richard A. Lerner, president of Scripps Research. "We appreciate JDRF's support and are enthusiastic about contributing to the effort to improve the lives of people with diabetes."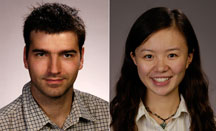 Graduate students David Sarlah (left) and Jun Shi were selected to receive Roche's Excellence in Chemistry Awards for research accomplishments in the field of organic chemistry. (Photos by BioMedical Graphics.)