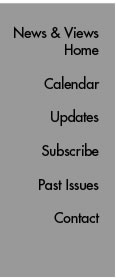 Etcetera
Dale L. Boger Named ACS Portoghese Award Winner
Dale L. Boger, the Richard and Alice Cramer Professor of Chemistry and member of the Skaggs Institute for Chemical Biology at The Scripps Research Institute, has won the 2011 Portoghese Award from the American Chemical Society (ACS) and its Division of Medicinal Chemistry. The award, named for Philip S. Portoghese, long-time editor-in-chief of the Journal of Medicinal Chemistry, honors an individual whose work has had a major impact on medicinal chemistry research.
As part of the award, Boger will deliver a lecture at the ACS meeting in Denver, CO, August 30.
Focusing on synthetic organic and bioorganic chemistry, Boger's lab emphasizes investigations to define the structure-function relationships of natural or designed agents to understand the origin of their biological properties.


Energy-Trimming System Saves 3 Million Kilowatt Hours and Earns $350,000 Rebate
An energy-trimming system called the Hartman Loop has earned the Scripps California campus nearly $350,000 in rebated project costs and reduced energy consumption by three million kilowatt hours per year, according to Pete Herold, VP, facility services.
A $349,766 rebate from San Diego Gas & Electric (SDG&E) was delivered in two payments—at the system's installation in early 2010 and March, 2011, when projected energy savings were documented. The rebate was applied to the Hartman Loop project's total $1.9 million cost. Project costs included much needed updates to building control systems. Herold expects energy cost savings to continue.
Three Hartman Loop systems were installed last year in the Beckman, Immunology, and Molecular Biology buildings. The network-based system optimizes building heating, ventilation, and air conditioning (HVAC) systems, constantly balancing building temperature needs with electricity demand to minimize energy usage.
The Hartman Loop systems are one element in an overall energy-reduction program implemented throughout the institute. These efforts earned Scripps Research an honorable mention in SDG&E's award program recognizing leaders in energy efficiency. The award was presented at SDG&E's recent Annual Energy Showcase. According to Herold, other projects in the Scripps Research energy-squeezing program include improved lighting and HVAC efficiencies, solar film, ambient temperature adjustments where appropriate, and enhanced landscape irrigation practices, including the use of smart timeclocks, native/low-water plants and reclaimed water.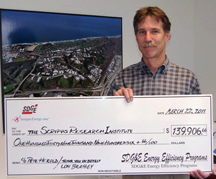 Pete Herold, Scripps Research VP of facility services, holds a ceremonial check from San Diego Gas & Electric, representing the final payment of a nearly $350,000 rebate applied to the installation of an energy-saving system in three Scripps California buildings. The new system saves three million KWh per year. (Photo by Cindy Brauer.)