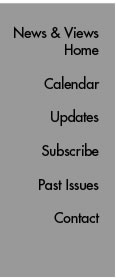 In Brief
Kellogg School Distinguished Lecturer Series to Present UCSF Chemist
Jim Wells, professor in Department of Pharmaceutical Chemistry at the University of California, San Francisco (UCSF), is the featured speaker in the next Kellogg School of Science and Technology Graduate Program's Distinguished Lecturer Series. Scheduled for Friday, April 29, 4 PM, in the Timken Amphitheater at Green Hospital, Wells' topic will be "Engineering Cells to Death."
Wells' UCSF lab focuses on designing proteins and small molecules that trigger cellular processes to better understand and treat cancer and inflammation. According to Wells, his research spans the disciplines of chemical biology, biophysics, cell biology, molecular biology, enzymology, and proteomics.


Scripps Florida to Stage Earth Day Activities
The Scripps Florida Green Team's Earth Day festivities are scheduled for Thursday, April 28, coinciding with "Take Your Child to Work Day" activities on the campus.
According to Carol Swete, environmental health and safety coordinator and a Green Team manager, highlights of the Florida campus's Earth Day activities include:
A fish release into the shared pond behind the buildings
Presentations from the State of Florida Department of Wildlife and the Busch Wildlife Rehabilitation Center
An e-waste disposal site
Green practices and recycling educational sessions
Presentations on green efforts in Scripps Florida labs
Vendor booths
Attendee giveaways, including the fast-growing native South Florida slash pine trees and insulated lunch bags
For more information on the Scripps Florida Green Team, visit the group's webpage.


California Campus NWiS to Hold Leadership Elections
The California Network of Women in Science will present candidates for the group's chair and vice-chair at its May 2 Coffee Hour, 3 PM in the Faculty Club. Attendees will have opportunities to question the candidates and suggest potential NWiS-sponsored events. Online voting for the positions will open following the event. The organization's executive board also offers other leadership positions, including administrative and financial officers, liaisons to the Society of Fellows and the Association for Women in Science, webpage and Facebook administrator, Distinguished Lecture Series representatives, and publicity director. Further details about the NWiS are available on its Facebook page.


Participate in the Bike-to-Work Challenge
Scripps California faculty, staff, postdocs, and students are urged to give their commute a green spin during the month of May to help the institute win the 2011 Bike-to-Work Corporate Challenge, sponsored by iCommute and the San Diego Association of Governments (SANDAG).
Organized on the Scripps California campus by the Students for Sustainability Initiative (SSI) and the Green Team, event participants will compete with other local organizations and companies to amass the highest number of work commutes by bicycle from May 1 to 31. To enter the challenge, Scripps Research employees can register with iCommute using their Scripps Research email addresses. Using the iCommute Trip Tracker tool, participants will log each bicycle commute to and from campus (including one-way rides and routes including other transportation). Each one-way trip will be counted automatically as one point toward the institute's total.
The challenge is held in conjunction with the national Bike-to-Work Day, scheduled Friday, May 20, when local businesses and organizations throughout San Diego county will host pit stops, offering drinks and snacks for event-registered cyclists. According to SSI organizer Katie Petrie, graduate student in the Joyce lab, registered challenge participants are eligible to win prizes, and Scripps Research cyclists who register for Bike-to-Work Day earn a free event t-shirt. For further information on the Bike-to-Work Challenge, email ssi@scripps.edu.


New English-as-a-Second-Language Series to Begin
A new English-as-a-second-language class will begin Tuesday, April 26. This class, taught by instructor Cassandra Wadkins, will meet from 6:30 to 8:30 PM every Tuesday in the Immunology Building West Conference Room. The price for three months (12 classes) is $60. Each intermediate-level English class is divided into speaking and listening, idioms and vocabulary, and reading and writing. If you would like to improve your English communication skills and your understanding of friends and colleagues, movies, television shows, and the news, this class is for you. The instructor uses movies, games, television shows, grammar books, songs, drawing, and novels to teach standard American English. Have fun and learn English at the same time! For more information, leave a message at x4-2176.
Send comments to: mikaono[at]scripps.edu